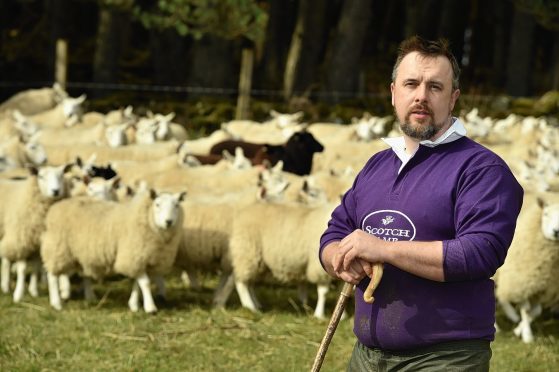 The most important thing in the sheep sector is its people.
That's the belief of John Fyall, who recently replaced Dalmally farmer Sybil McPherson in the role of National Sheep Association Scotland chairman.
A well-known face in the farming community, Mr Fyall is a former north region chairman for the Scottish Association of Young Farmers' Clubs (SAYFC) and former chairman of the North East Farm Management Association.
He is currently in the eighth year of a 15-year limited duration tenancy at the 87-acre Sittyton Farm, and other letting arrangements bring his total farmed area up to just over 310 acres.
The farm carries a small herd of 25 pure Shorthorn cattle as well as a gimmer-rearing enterprise.
Each year Mr Fyall buys in store lambs from Lairg and then sells them on the following year as gimmers. Together with his girlfriend, Alex Clark, he is currently rearing 500 Cheviots and 400 Texel crosses and Mules.
In the past, the farm carried a flock of breeding sheep however Mr Fyall said farming without subsidies made it impossible to continue lambing ewes.
As a relatively new entrant farmer, Mr Fyall has only recently started receiving subsidies.
On top of his farming enterprise, Mr Fyall also runs a road-gritting service and an agricultural valuation company. He also helps with commentaries for sheep shearing at summer shows, and is currently working as a land agent on behalf of the contractor building the new Aberdeen city bypass.
When asked about his priorities for his new role, Mr Fyall said people were key.
"The main goal I see is protecting the people in the sheep industry and not just protecting the sheep. We need to try and keep young people interested," said Mr Fyall.
He said land abandonment in upland areas was already being witnessed in some parts of Scotland, and ensuring upland sheep production was viable was key to keeping people working and living in these areas.
The NSA also needed to look at how best to target support for the industry in light of Brexit and the dawn of a new era of agricultural policy, said Mr Fyall.
"We need to work together," added Mr Fyall. "The trouble is, we have Brexit on the horizon and we have already had 10 years' of stagnation in the industry.
"Richard Lochhead was the longest serving farm minister because he never took a contentious decision. We have postponed decisions that should have been taken years ago."
Mr Fyall said recent political upheaval caused by Brexit and a potential second Scottish independence referendum was not going to help in the construction of effective policies going forward.
"I want to make sure that in negotiations the sheep industry is recognised as vital to Scotland and the UK as a whole," said Mr Fyall.
"I also want to make sure we are not sold down the river in any trade deals."
He said the sheep sector was particularly vulnerable during trade negotiations with one of the main markets being France, which imports around 100,000 tonnes of UK sheepmeat every year. As a result, Mr Fyall said he was disappointed to learn red meat promotion body Quality Meat Scotland had withdrawn its member of staff from France.
He said other important issues facing the sector, such as disease control, re-wilding, and understanding consumer market changes, were taking "second fiddle due to political machinations".
"Since 2010 we have been making decisions to serve the farming industry from one year to the next. There's no long-term planning. A lot of this is the fault of stakeholders as well as politicians," added Mr Fyall.
One important policy area the NSA is working on is ensuring the continuation of Less Favoured Areas (LFA) support in one form or another – something which feeds directly into Mr Fyall's desire to protect the people working in the sheep industry.
"As long as there's a market for sheep we should be able to work sheep on the low ground but the LFA is essential for the uplands," said Mr Fyall. He said industry, and in particular the NSA, needed to explain the social, environmental and economic benefits of the sheep sector.
"If we cannot argue that sheep are necessary from a meat production and economic standpoint, we have to look at everything else they bring," said Mr Fyall.
"Sheep grazed at appropriate levels are the ones that keep the upland landscapes in a way that makes the landscape a place for tourists and home visitors to appreciate."
He said while many other sectors in farming could get away having with less staff and increased mechanisation, the sheep sector could not.
"I want to make sure that these people are protected," said Mr Fyall. "One of the most enjoyable things about the sheep industry is that it does require people. My first priority is to protect these people and make sure that they are represented in negotiations in a sincere and constructive way."