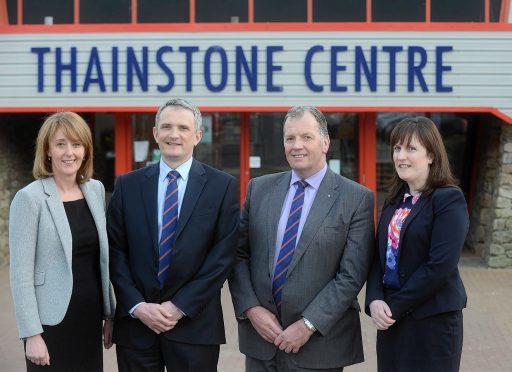 Plans to build a new abattoir in the north-east may have to be "reassessed" if ANM Group loses its appeal to gain planning consent for an extension to its Thainstone Business Park.
That was the message from immediate past chairman Pat Machray at the annual general meeting of the north-east farmers' co-operative earlier this week.
In August last year Aberdeenshire Council's Garioch area committee threw out ANM Group's plans to extend the Thainstone Business Park. The group has since lodged an appeal with government asking that the decision be overturned.
Previously the group said construction of the new Scotbeef Inverurie abattoir was dependent on the business park extension going ahead.
Scotbeef Inverurie is a joint venture between ANM and Scotland's largest meat processing company J.W. Galloway. ANM holds a 25% stake in the firm.
Mr Machray, who retired from the role of chairman at the meeting, said: "If the appeal is won we will step forward immediately with everything.
"We need to get the infrastructure right for the site and we have planned for the abattoir to be in the right place so as not to disrupt neighbours. If we don't get through this appeal the board, along with Scotbeef, will have to reassess the situation."
ANM Group chief executive, Grant Rogerson, said the Garioch area committee's decision to reject the plans had proved a huge challenge to the company.
He said: "Securing the future of Scotbeef Inverurie is dependent on the successful approval of the plans. We have launched an appeal with the Scottish Government and we are doing everything we can to move things forward for a positive outcome."
Meanwhile, the group's executive support manager, Avril McLeod, revealed details of investments made by the group in the past year.
She said the company had spent more than £300,000 on upgrades to its base at the Thainstone Centre in Inverurie and its outlying premises at the Caithness Livestock Centre in Quoybrae.
Investments have included: erection of roofs over the sorting pens at the unloading area at Thainstone; renewed flooring in the Thainstone Concourse and stairwells; purchase of modernised printing facilities; upgrades to the wifi available at the Thainstone site; and improvements to the farmhouse at Quoybrae.
She added that a refresh of the group's Porterhouse Restaurant had resulted in it serving an extra 2,000 meals during the year.