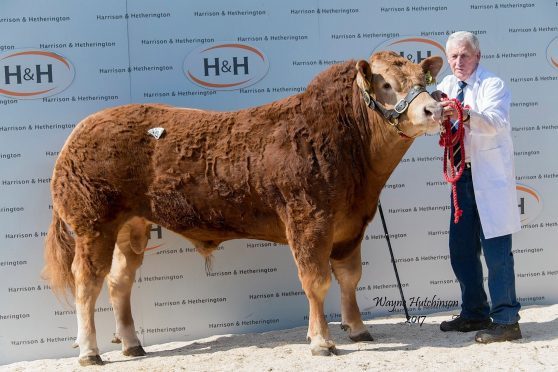 Limousin bulls sold to a top of 100,000gn at the breed's early spring show and sale at Carlisle.
Auctioneers Harrison and Hetherington sold 128 bulls to average £7,712.70, with 47 bulls selling for 6,000gn or more.
The sale leader – Ampertaine Mozart from Northern Irish breeder James McKay of Maghera, Co. Derry – was the fourth ever Limousin bull to sell for a six-figure sum.
A January-2016 born AI son of Kype Orkney and out of Ampertaine Glamourgirl, he sold to Procters Farm Ltd, Clitheroe, Lancashire.
Next best at 60,000gn was the supreme champion – Wilodge Lookout from Christine Williams and Paul Tippets at Lodge Hill Farm, Shifnal, Shropshire.
September-2015 born Lookout, by Gerrygullinane Glenout, sold to the Sportsmans herd of Bowden and Davies Ltd, Mellor, Stockport.
Scottish breeder Ian Nimmo, who runs the Maraiscote herd at Bogside Farm, Wishaw, North Lanarkshire, paid the next best price of 50,000gn for January-2016 born Bassingfield Machoman, by Millgate Fame, from Bassingfield Limousins, at Holme Farm, Nottingham.
Another sale leader at 35,000gn was January-2016 born Foxhillfarm Manhattan, by Guards Boomer, from Mike and Melanie Alford, Foxhill Farm, Devon. He sold to C.V. and E. Lewis, Buttington New Hall, Welshpool, Powys.
Thereafter Angus breeders Bob and Kay Adam, of Newhouse of Glamis, paid 24,000gn for November-2015 born Procters Legacy, by Ampertaine Gigolo, from Procters Farm Ltd.
Other leading prices included: 10,000gn for Wilodge Livingitup selling to J.S. and L.D. Adam and Son, Garraron Farm, Lochgilphead, Argyll; 9,000gn for Roxburgh Black Logan from John Elliot at Roxburgh Mains, Kelso, selling to Albert Howie, West Knock, Stuartfield, Peterhead, Aberdeenshire; 8,500gn for Foxhillfarm Justthejob from Albert Howie selling to Ballechin Farms, Ballinluig, Pitlochry, Perthshire; 7,500gn for Ballinloan Lambourghini from Stuart Fotheringham at Ballinloan, Dunkeld, selling to S.F. MacKay, Knockaneorn, Clunas, Nairn; and 7,500gn for Ronick Laddie from Ronald Dick at Mains of Throsk Farm, Stirling, selling to Balfour Baillie, Sebay Cottage, Tankerness, Orkney.
Meanwhile, female trade topped at 42,000gn for an entry from Mike and Melanie Alford's Foxhillfarm herd. Leading the sale was January-2016 born maiden heifer Foxhillfarm Mammamia – an embryo transfer daughter of Foxhillfarm Irishlad out of Glenrock Illusion, which was purchased jointly with Swalesmoor Limousins for 125,000gn. Mammamia was snapped up by B.C. and J.W. Evans, Penrhos, Powys.
The Evans family also paid the next best prices of 35,000gn and 19,000gn for two more lots from the Alford family.
Other leading prices included 10,000gn for another Glenrock Illusion embryo transfer daughter from the Alfords. Foxhillfarm Missmoney sold to Graham Morrison, Inchbruich, Cornhill, Banff.
Averages: cows, three, £3,710; weaned calves, three, £1,435; served heifers, 29, £3,990; maiden heifers, 110, £4,294.02.