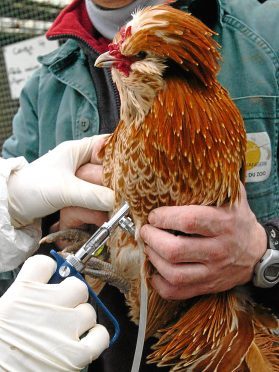 The government should incentivise broiler producers to make better use of vaccinations which could go towards protecting public health, according to an expert in poultry diseases.
Mark Stevens, research director at Edinburgh's Roslin Institute, said vaccinations being developed by researchers could help stop bacteria such as e.coli, campylobacter and salmonella finding their way to consumers through infected poultry meat.
But even when effective vaccines are created, convincing producers to invest in them when they appear to offer limited value to their businesses can be difficult, he said.
Speaking at the World Veterinary Poultry Association conference in Edinburgh, Professor Stevens said creating effective vaccines was only part of the challenge in reducing human health risks associated with some poultry meat.
"We can make these things, but there's a question of why it happens. Most farmers can produce birds even if they have campylobacter in their flock, so why should they buy the vaccine?" he said.
"For that we need governments to step in and mandate that it has to be used, or maybe retailers could offer a premium to producers who vaccinate because they'll be able to say the products meet quality assurance standards."
Prof Stevens said his team was working on identifying which of the thousands of genes which make up e.coli, salmonella and campylobacter bacteria were responsible for latching on to birds and colonising flocks. By finding those genes they can create more effective vaccines against the bacteria.
Providing evidence the vaccines can really make a difference to wider flock health and productivity will be key, he added.