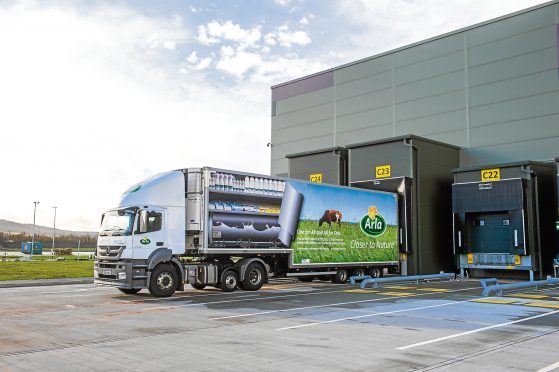 One of the main milk processors in the UK bounced back into the black last year despite a 9% drop in turnover.
Arla Foods Limited – the British arm of European dairy farmers' co-operative Arla – posted a turnover of £2.346billion for the year ended December 31, 2016. This is down from turnover of £2.575billion the year before.
Accounts filed with Companies House reveal the company returned to profit during the year.
Pre-tax profits for the company, which buys milk from an estimated one in four UK dairy farmers, amounted to £23.327million. This is up from a pre-tax loss of £63.782million the year before.
The bulk of sales at the company, which produces Lurpak, Anchor and Cravendale, was in the UK at £2.29billion. This is down from £2.556billion in 2015.
Sales to the rest of Europe increased to £36.93million, from £18.316million before.
Meanwhile, sales to the rest of the world enjoyed substantial growth to £19.389million, from £35,000 previously.
During the year the company incurred exceptional costs of £10.742million.
This included £6.685million in reorganisation costs and £4.057million in impairment charges.
These primarily related to the Hatfield Peverel dairy last year and head office restructuring in 2015.
The company's accounts also reveal that the average number of monthly employees, including directors, during the year was 3,375, compared with 3,489 in 2015.
Pay to the company's directors was £3.055million, compared with £2.748million the year before.
The highest-paid un-named director took home a pay cheque of £863,000 which is up £230,000 on 2015 when they were paid £633,000.
In a statement accompanying the accounts, the company said: "In 2016, there was unprecedented market volatility in raw milk production, as well as farm gate prices.
"However, Arla's strong brands and broad product portfolio, both in the UK and globally, prevented the milk price from hitting the extremely low levels seen elsewhere in the industry."
It said difficult trading conditions and low global commodity prices had led to an overall decline in revenue.
"Despite the challenging market conditions, volume driven revenue growth in branded positions was 3.9%, demonstrating that we have improved the quality of our revenue," Arla added.
Looking ahead, Arla said the outcome of the Brexit referendum and the UK's impending departure from Europe would not change the importance of the UK market to the company.
"Arla has established a senior manager taskforce to analyse and monitor the possible consequences and prepare the business to deal with developments following the Brexit. The directors do not believe the Brexit vote poses any issues of going concern within the UK business," it added.