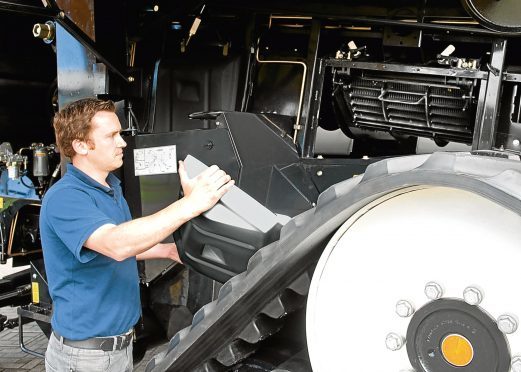 Farm machinery manufacturer New Holland has launched a new Scottish apprenticeship scheme.
The tractor giant has launched a four-year agricultural engineering qualification for Scottish school leavers in conjunction with Scotland's Rural College, SRUC.
The new qualification balances theory with practical tasks including servicing and maintenance on a wide range of equipment.
"There is a general lack of people coming into the agricultural machinery industry," said New Holland's technical support manager, Michael Barnes. "We need to ensure that our dealerships are equipped for the future. The best way to do that is to invest in young people and offer them viable routes into the industry."
He said the apprenticeship focused heavily on practical workplace learning, balancing classroom studies with block release. The time the apprentice spends in a practical work environment will gradually increase as the course progresses.
"There is the potential to progress from an apprentice to the New Holland certification programme and, through further training and experience, on to become one of New Holland's master technicians," added Mr Barnes.
Applicants for the scheme, which is delivered at SRUC's Oatridge campus, can begin by studying for a year to attain the National Certificate in Land-based Engineering, and then study for two more years to gain their SVQ level 2 once employment within the agricultural industry has been secured. If a dealership is willing to employ an applicant without a National Certificate they can proceed straight to the SVQ. Mr Barne said aspiring apprentices should contact their local dealership.