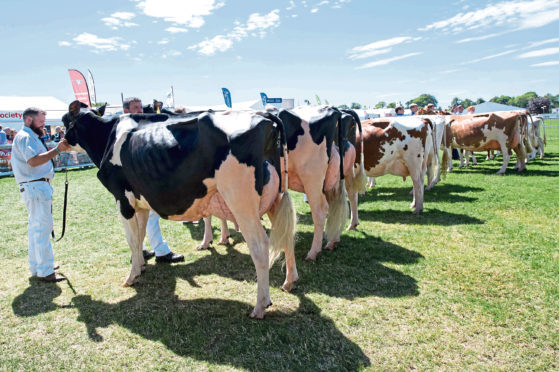 The husband and wife team of Colin and Izzy Laird had a day to remember at the Highland Show yesterday when Izzy's Jersey cow took the interbreed title with Colin's Holstein in reserve.
The couple milk 550 Holsteins, along with Colin's dad, Alister at Blyth Farm, West Linton, but Izzy introduced a few Jerseys to the herd when she married Colin a couple of years ago and has gone on to show them with great success in her own name.
Not only did her third calver, Fourcross Anthony Carozza take the interbreed award but also the prestigious Queens Cup, which rotates round the livestock sections and this year was awarded to the best animal in the dairy section. Judge, Willie Whiteford, Carlisle described her as an idyllic example of the breed.
The Holstein champion, Blythbridge Jessy was imported from France as a heifer in-milk last year just before the Highland, where she came first in her class. She is projected to 14,200 litres in this lactation having yielded 11,100 in her first.
The Laird family were delighted to win the Holstein championship for the eighth time in 20 years of showing especially after a busy year with baby, Chloe being born in February.
Reserve in the Jersey section was Andrew Wilson, Carskerdo, Cupar, with the third calver, Enchanted Wizard Jess, brought out by wife, Pat. Jess is one of 20 Jerseys which form part of the 350 strong Holstein herd and she was junior champion at the Highland as a heifer.
A small Red and White section was led by Brian Yates' January-calved heifer, Logan Integral Jodie Red from his herd of 12 Red and Whites and 230 Black and Whites at East Logan, Castle Douglas. She went on to win the junior interbreed title.
Over 70 bulls were entered for the prestigious Marks and Spencer Beefbreeder Championship yesterday which aims to demonstrate how cattle are best judged for commercial relevance by taking into account both traditional values of conformation and EBV data.
Winning the continental class for the second year in a row were Billy and Anne MacPherson, with a 15 month-old Simmental bull from their 25 strong herd at Blackford, Inverness. Blackford Iolair by Kilbride Farm Doubleaction out of Blackford Waxwing, was first in his class on Thursday on his first outing and will be sold at Stirling in October. Reserve was the Milne family from Kennieshillock, Elgin with their Charolais bull, Elgin Neyer by Woodpark Elgin.
Gordon Brooke Estate at Duns, where one of the trustees is John Elliot, took both champion and reserve in the native classes with their Aberdeen Angus bulls. First was the two-year-old Cragg Lord Leviathan by Rawburn Jordan Eric, while reserve was the younger Linton Gilbertines Powerhouse by Rawburn Dublin, which is in the top one per cent for the breed.
The Aberdeen Angus breed also took top honours in the native teams where Stirling-based Stephanie Dick's champion from Thursday took part, while the pairs winners for both native and continental were the Limousin pair including a cow from Douglas and Linda Graham, Mains of Burnbank, Blairdrummond.