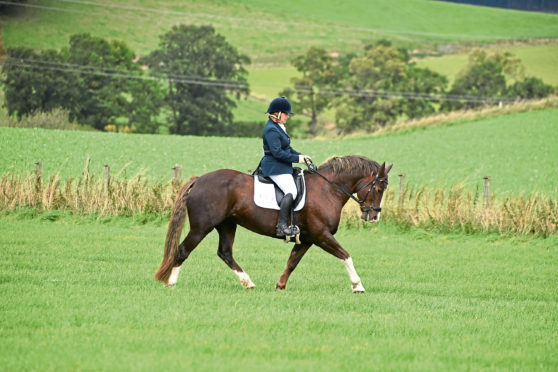 Riding Clubs from Orkney, Caithness, Edinburgh and Aberdeenshire all competed in individual and team competitions at the Saddle Up International Scottish Riding Club Championships at Aucklishie, Kirriemuir.
The dressage event had a large number of entries with Gordon Dressage Group winning the Open team competition – Susan Padfield, Laura Corsie, Susan Reid and Eleanor Mennie finished on a score of 176.5.
North Lammermuir Riding Club won the prelim dressage team event while the individual prelim riding test was won by Ladyley's Ashley Armstrong and Joe's Boy on a score of 77.0.
A team competition for the riding test event was won by both Stonehaven Riding Club and North-East Riding Club, with the highest mark of the class going to Stonehaven member Julie Robertson and Balhagerty Little Diamond with an impressive score of 99.5.
The show jumping event saw a win in the 100 section for Findon member Roan Grant on Caballo Roso, with the 90 event won by Strathmore and District Riding Club, the 80 event won by SPRA and 70 won by NE Fife club.
The Sunday competition saw another busy day of entries with teams from Orkney to Ladyleys competing in 80, 90 and 100 levels.
In the 80 section, Fife Riding Club led the class with Amy Sim on board Brynfa Llewellyn from Gordon Dressage Group winning her arena.
In the individual competition, Caithness rider Amy Louise McIvor won onboard Mademoiselle Buffet.
The 90 team event was won by Edinburgh Riding club with an arena win by Findon Riding Club member Annabel Sall and Funky Town on a score of 25.5.
Findon Riding Club members Keely Gordon, Sophie Bultitude, Catriona Boxall and Roan Grant led the 100 team competition as well as individual wins by Sophie on Laghey Clover and runner-up Keely onboard Thunder.