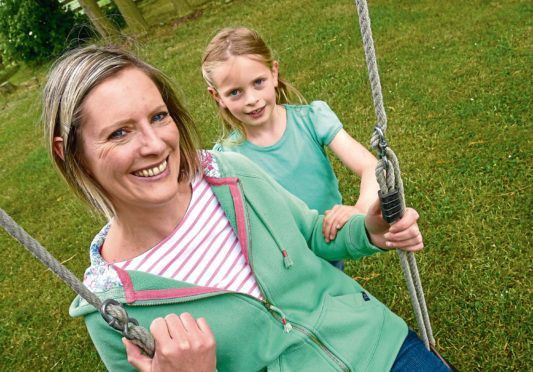 I have a new job. Well, kind of.
At the end of last year, I volunteered to be secretary of Daisy's school parent council. I figured I would need something to take my mind off Mollie starting nursery in January and to occupy my newly acquired free time.
It also became apparent that not having a parent council with the current budget cuts across all sectors of the Highland Council region was putting our cherished rural school at risk.
Parent councils, as everyone who is on one will know and I am beginning to learn, have lobbying power at both a local level and nationally, when feeding into the Highland Parent Council Partnership.
And things are off to a flying start with plans to improve the tiny playground, organise fundraising events, connect more with the local community, reinvigorate our unique school tartan, designed by pupils in 2006, and support a much warranted speed limit reduction campaign on the B9169.
This is the main road that passes the school, nursery and community hall as well as our farm drive.
As a result of my new duties, however, my exercise regime, copywriting jobs, grand plans to freshen up the granny flat for AirBnB and my soap-making enterprise have all gone to pot. Or are on the back burner for now at any rate.
The only way Nick is managing to enlist my help these days is with deadlines. My first job is to write a storyboard for the two National Trust properties we supply – Brodie Castle and Culloden Visitor Centre in Inverness – and the second is a branding job, namely bottle design and "wrapping" a milk vending machine, for us.
Nick decided to bite the bullet at the end of January, chastising himself (and me) for talking a lot about milk vending but not actually doing anything about it.
In terms of reducing our carbon footprint, it is undoubtedly the way forward and has been inspired by the local community movement in Muir of Ord to go greener as well as the success that both Forest Farm Organic Dairy (Aberdeenshire) and Wester Mossgiel (Ayrshire) are enjoying with their milk vending businesses.
It represents significant investment, but we are encouraged by the steady growth of milk sales direct from the farm and customers have told us this is what they want.
We will only be able to offer whole milk to begin with and will continue to sell semi-skimmed milk in plastic bottles for now.
Once we approve the sample branded glass bottle, we will look at pricing as we are hopeful we can reduce the cost per litre of milk since we will no longer have the cost of the plastic bottle and label.
We expect the machine to arrive around the middle of next month, so hope to be up and running by Easter, if not before.
Customers can use their own milk-carrying vessel or buy a branded reusable glass bottle from the farm.
There will also be a small stock of empty plastic bottles for those who forget to bring one. It's exciting but also a bit scary as all things new are apt to be.
In other farm news, the sheep have left for another year, something I'm never particularly sad about as they leave a lot of well-trodden, very muddy tracks in their wake, leaving the fields looking a lot like the school playground at the moment.
Contemplating fresh pasture, Nick has been planning his grazing platform for the coming year after a recent visit to Wester Manbeen near Elgin where the very helpful Alick Hendry shared his knowledge and experience of grazing their organic dairy herd outside for eight months of the year.
If Nick can achieve this with the Rootfield herd, it will help him to improve productivity from the land here.
Nick has also made contact with LEAF – Linking Environment and Farming – the organisation behind Open Farm Sunday (see www.farmsunday.org).
According to their website, some "1,600 farmers across the UK have opened their gates and welcomed 2.2 million people on to their farms for one Sunday each year" since launching the initiative in 2006.
With the honesty shop onsite, we already invite people on to the farm on a daily basis but the idea behind Open Farm Sunday is to open up the whole farm up for tours, demonstrations, tractor and trailer rides, a mini farmers' market, maybe.
From my preliminary research on LEAF's website, it is essentially bespoke for every farm.
I'm certainly keen – in my head, I already have the top shed set up with a café and market stalls run by the pupils and parents from school (parent council hat on) – but Nick thinks it may be one to plan for in 2020 as it would take a lot of organisation (farmer hat on) and has the potential to attract well over 1,000 people.
Open Farm Sunday isn't until June 9, but if the first six weeks of the year is anything to go by, that will come around soon enough.
This week alone we've had not one but four birthday celebrations, parents' night, gymnastics, string club and Valentine's day – not so much dinner a deux these days, but homemade kanelbullar or cinnamon buns (new family treat, thank you Sweden) and fabulous cards designed and made with love by our girls.
Now it's half term and for once, I'm happy we don't have any plans.
Next month: milk vending.
Rootfield Farm is on the Black Isle, 10 miles north of Inverness, where Jo lives with husband Nick, a dairy farmer, their daughters Daisy and Mollie, and 170 cows.