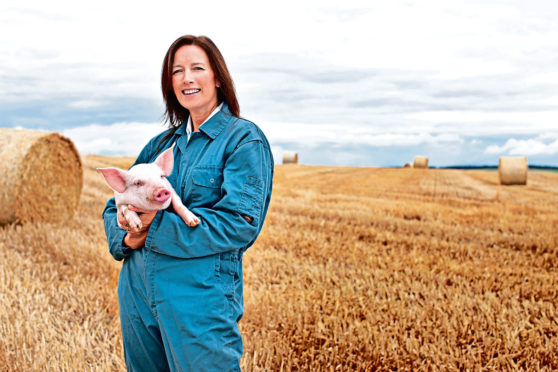 Scotland's pig industry has embarked on a united programme to eradicate an endemic disease which is currently costing the industry £3 million a year at a UK level.
The disease – Porcine Reproductive and Respiratory Syndrome (PRRS) – was first seen in pigs in Scotland in 1992.
It infects sows and growing pigs, leading to reproductive failure – characterised by abortions, weak and stillborn piglets and infertility – as well as respiratory problems and increased mortality in young animals.
It is also has an immuno-suppressive effect, meaning animals infected with the virus are susceptible to repeated infections, often resulting in increased antibiotic use.
The virus can be transmitted in boar semen, through the air, from pig to pig, and via contact with things like contaminated boots, overalls and vehicles.
Recent research indicates that 40% of Scottish herds are affected by the disease, which is estimated to cost around £80 per sow, £3.50 per finished pig, or typically £40,000 for a 500-sow herd per year.
Now, in an attempt to remove PRRS from Scotland, pig producers, vets, pharmaceutical companies, pig specialists and industry bodies have agreed to work together on an elimination strategy, with the Moray coast region identified as the preferred starting point for action.
"Eliminating PRRS in Scotland would undoubtedly improve pig health and welfare by reducing disease and mortality in Scottish pigs," said pig vet Grace Webster, who is chairman of the Quality Meat Scotland working group established to try to combat the disease.
"As pigs with PRRS are affected by secondary infections, eliminating the virus would help reduce antimicrobial use in pigs and could also reduce abattoir condemnations due to chronic health issues such as pleurisy."
Based on data collected over the last 18 months, 40% of pig units in Scotland would now test positive for the virus, although this is 15% lower than in 2012/2013.
Using this data, the epidemiology team at SAC Inverness has mapped the disease, showing each individual site, by unit type, size and PRRS status.
As a result, phase two testing is due to begin soon in Scotland to identify what strains are present on infected units. This will help inform improvements in biosecurity.
"The next key steps towards control and elimination need to be co-ordinated within a region, to prevent neighbours re-infecting each other," said Dr Webster, adding that the Moray coast region looks ideal for this as there are very few positive units in this area.
"Viral isolates from Scottish farms that have had their DNA sequenced are already seeing a diversity from region to region, so eliminating the virus quickly will hopefully protect the Scottish herd against the development of highly pathogenic strains."
The eradication project is expected to take between three and five years to complete, and QMS said its success will depend on co-operation from producers, vets, hauliers, feed companies and all allied industries in the sector.
Regular meetings will be arranged after the initial diagnosis work is complete, to share information and provide updates on the progress towards agreed goals.