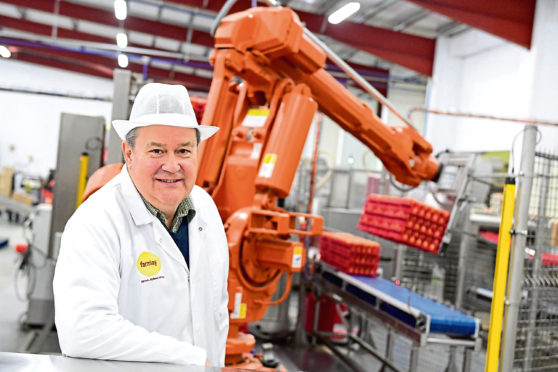 North-east egg producer Farmlay Eggs enjoyed a boost in turnover and profits last year.
The company, which supplies retailers including Morrisons and Aldi, is run by Robert and Ethel Chapman and their son Iain.
The firm sorts and packs more than four million eggs a week at its state-of-the-art grading facility at West Cockmuir, Strichen.
Around half the eggs are produced in-house, with the remainder sourced from 24 contract producers in Aberdeenshire, Moray and Kincardine.
Accounts filed with Companies House show the firm, under its registered name of Aberdeen and Northern Eggs Limited, posted a turnover of £19.388 million for the year ended May 31 2018. This is up 16.7% from £16.611m the year before.
Pre-tax profits were also up by 23% to £2.249m, from £1.825m previously.
In his report with the accounts, Robert Chapman said the boost in sales meant the company needed to continue with investment in its packing and grading facilities.
He said £2.5m was invested during the year, mainly financed by retained profits.
Investments included the purchase of two further robots for the grading and packing facility, and upgrades to transport, logistics and the purchase of replacement arable equipment.
"We are also planning to install a larger egg grading machine, which will increase the number of eggs we can pack," added Mr Chapman.
He said the retail market remained very competitive, however consumption of eggs continued to rise.
"This is positive news for the industry and the company," said Mr Chapman.
"It is hoped that the strategy of keeping all aspects of rearing and production, along with distribution under the control of the company, will assist in keeping the business competitive."
Looking forward, Mr Chapman predicted an oversupplied egg market and pressure on margins.
"Sales volumes continue to increase and we as a company need to ensure that we have sufficient supply to meet these demands," he added.
"However, bird numbers continue to rise faster than consumption."
He said staffing levels had remained constant, despite the increase in eggs packed, and he was confident the company's non-UK employees would have a secure future in the UK after Brexit.