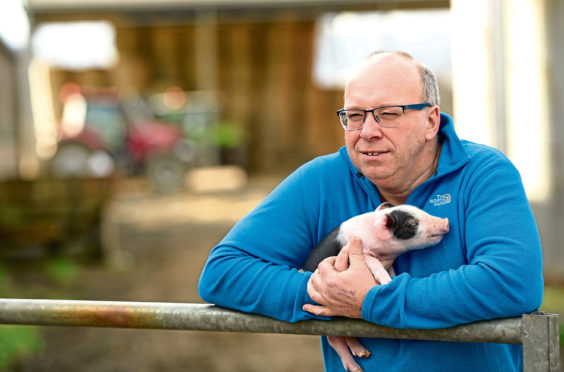 A north-east pig farmer has encouraged his peers to ask for help when they are facing problems with their mental health.
Kevin Gilbert, who farms at Womblehill near Kintore, Inverurie, made the plea in a blog post on NFU Scotland's website to coincide with Mental Health Awareness Week.
"I find it relatively easy to speak about farming, but mental health is a different matter," wrote Mr Gilbert, a former chairman of the union's pigs committee.
He shared the story of his own mental health struggles, which started in 1990 when he returned home from working in Yorkshire to take over his family farm after his father died from liver cancer.
"I muddled along for a start, but I soon found it quite overwhelming trying to run the business at the age of 22," wrote Mr Gilbert.
"I also went from having a good group of friends and an active social life, to just working all the time at home. I went to my GP, who wasn't very helpful, but put me on mild anti-depressants which seemed to help."
He said he has since had other episodes of depression, and he now sees a psychiatrist three times a year.
"It took a long time for me to get through the system and be able to see the psychiatrist, but I am now at the stage where my mental health is now quite well-managed," wrote Mr Gilbert.
"Although it is difficult at first, once you can get into the NHS system the help is there."
He said he didn't have specific advice for others in a similar situation, but there was help available from the NHS, private counsellors and charities including RSABI and the Samaritans.
"The most important thing is to speak to someone about your problems – something middle-aged men are particularly poor at," said Mr Gilbert.
"Don't bottle things up until they become too big to deal with. If they do, ask for help.
"If the first person you ask isn't helpful, try someone else."