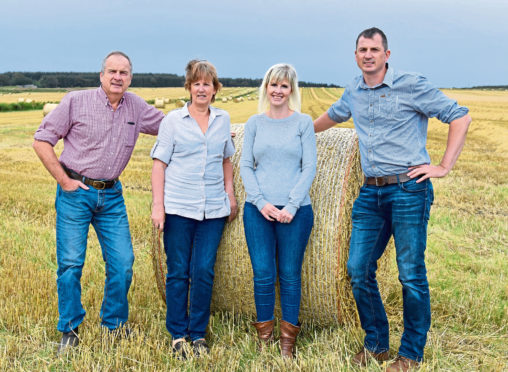 Gray Farms Limited is one of two farms in the running for this year's Royal Northern Agricultural Society (RNAS) good farming practice award.
The award, sponsored by Aberdeenshire Council, celebrates a farmer in the region who is showing good practice in his or her farming business.
Gray Farms is a family business run by Charlie Gray and his wife Helen, along with their son Philip and his wife Michelle.
Stretching across 1,500 acres, and based from Roundacres Farm, near Portsoy, the enterprise comprises 1,000 acres of malting barley, 200 acres of wheat and 250-275 acres of seed potatoes grown for export.
The barley goes to the Portgordon Maltings at Buckie, while wheat is marketed locally as feed.
"We have two or three long-standing agreements with exporters for seed potatoes and we go and meet our customers in Spain," said Charlie.
He said the farm is one of 26 in the country involved in an initiative to produce its own seed for seed potatoes.
"We took up the challenge to multiply our own pre-basic varieties from scratch. It's not easy," added Charlie.
Another innovative initiative on the farm, started more than 10 years ago, is a recycling process to produce a compost-based soil improver for the land.
Charlie said: "We collect green waste and food waste from private companies and the council and make compost for a soil improver.
"We keep it all in-house. The whole idea is to try and put some structure back into our land as we are all arable."
On future plans, he said the family was currently in the process of moving its potato business from the old station yard in Portsoy back to the farm, beside a 500kW wind turbine, which will reduce energy costs.
This year's contest was judged by well-known Moray farmer Iain Green, who runs an extensive arable, beef, sheep and pigs enterprise at Corskie Farm, near Garmouth, Fochabers.
The other finalist is I & N Campbell, Kirkton, Kinellar.
The winners will be revealed next month.