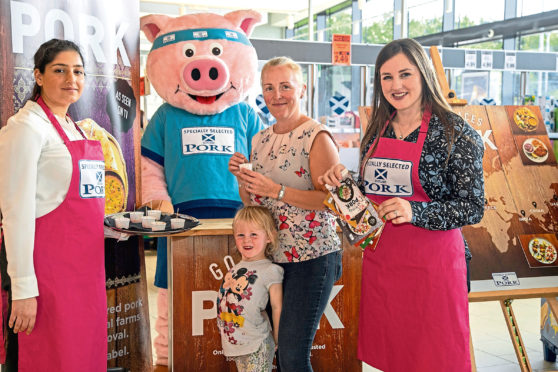 Aberdeen shoppers were given a taste of Specially Selected Pork as part of efforts to encourage more people to put the product in their shopping baskets.
North-east pig farmer Lynn Argo, of Harvieston Farm, Catterline, visited the city's Lidl store to offer shoppers samples and recipe leaflets for Scottish pork.
Her efforts were part of Quality Meat Scotland's (QMS) current Go Places with Pork campaign.
The four-week campaign aims to encourage Scottish consumers to try adventurous new pork dishes from around the world as midweek family meals.
Ms Argo said the sampling event was the perfect opportunity to engage with shoppers about what goes into producing Specially Selected Pork.
"Farming is a really rewarding industry and we take great pride in producing Specially Selected Pork – a quality product which is reared, in Scotland, to very high standards of animal husbandry and welfare," added Ms Argo.
QMS marketing manager Kirsty Fox said: "Our store sampling sessions are a really effective way of introducing people to new flavours, techniques and ways of cooking with some of Scotland's best quality produce.
"Welcoming local farmers along is a great opportunity for shoppers to hear directly from those who dedicate their lives to producing Specially Selected Pork – a brand which is underpinned by high animal welfare and production standards.
"We'd like to encourage shoppers to always look out for the Specially Selected Pork approved by the Scottish SPCA-assured label when purchasing pork, and to visit the Scotch Kitchen website to find a range of healthy and adventurous dishes to try from the comfort of their kitchens."