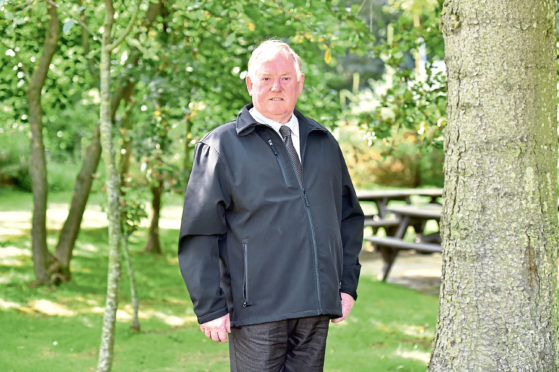 A trip to Banchory Show to exhibit Oxford Down sheep in 1966 was the start of Gordon Christie's lifelong commitment to help organise and run the leading north-east agricultural show.
Described by some of his peers as "Mr Banchory Show", Mr Christie is one of seven members of the agricultural community to be recognised in the 2019 Royal Northern Agricultural Society (RNAS) awards.
The society presents a number of awards every year to recognise members of the farming community in the region.
Mr Christie is the winner of the David Argo Award, which is presented to an unsung hero working in the agricultural sector who merits particular recognition.
Mr Christie has been involved with the show for almost 50 years, having previously served as treasurer and president.
"My father had a small farm in Crathes and he used to show Oxford Down sheep at the show," said Mr Christie, who retired last year from working as a technical engineer for Coca-Cola.
"I used to go with him to the show and I just sort of helped out and got on to the committee after that."
His first official job at the show was as a steward for the Shetland Ponies section, and he served as show treasurer for 30 years, including a two-year stint as show president.
Over the years, Mr Christie has been involved in all aspects of running the show and he is still responsible for looking after the show trophies and ensuring they are engraved with the names of the winners each year.
"I love meeting people and just getting involved in everything," said Mr Christie.
"It's something I have done for so long it's just second nature."
As well as being involved with Banchory Show, Mr Christie is treasurer of the Five Shows Committee – comprising Banchory, Tarland, Fettercairn, Kirriemuir and Angus shows – and in recent years has helped with the finances for the RNAS Royal Northern Spring Show.
He has no plans to step away from his show responsibilities and says he will be involved with Banchory Show for as long as he can.
"As soon as one show finishes, we are on to organising next year's show," said Mr Christie, who said special planning was currently under way for the 200th anniversary show in 2020.
"We are planning to do an extension to the marquee next year with a display of photos, videos and historical memorabilia. We are also planning a small March of Time."
In all citations for the award, Mr Christie is praised for his long-standing commitment to Banchory Show and his readiness to get stuck in and help out.
One nomination read: "As far as Banchory Show is concerned, Gordon Christie is nothing less than an institution. A real stalwart and font of knowledge, he has made an enormous contribution to the recent success of the show."
Another paid tribute to Mr Christie's 30-year stint as show treasurer, and said: "It is in no small measure due to his careful housekeeping as treasurer that the show is in such a healthy financial position."
Another described Mr Christie as having a "quiet, modest and unassuming manner", while paying tribute to his diligent management of show finances.
It said: "Gordon took on the role of treasurer at a time when the Banchory Show was at quite a low ebb, with little reserves, and an uncertain future.
"However, he supervised a transformation of our fortunes, with a growth plan for the show, including taking in hand the in-house management of our bar facilities and an expansion of the marquee for entertainment.
"Gordon also made excellent decisions regarding the show's newfound profits by finding, recommending and utilising appropriate investment opportunities, which have yielded useful surpluses over the years, despite the harsh economic climate."
On winning his award, Mr Christie said: "I was not expecting any recognition for anything. I'm very much delighted, it's an honour to get the award."
Mr Christie will receive his award at a celebration lunch on Friday November 1 at the Jury's Inn at Aberdeen Airport.
Tickets for the lunch are available from RNAS secretary Alison Argo on 07714 899628 or by email to secretary@rnas.info