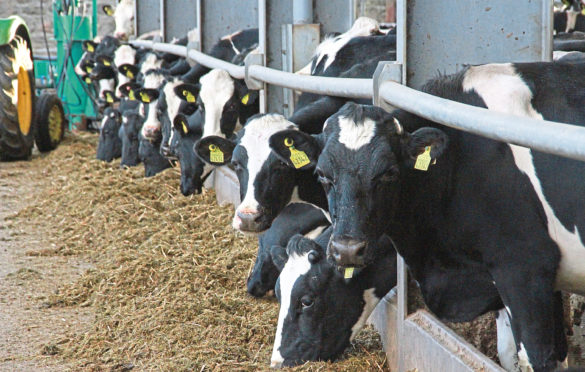 Muller has served termination notices to 14 of its 26 Aberdeenshire dairy farmer suppliers.
The dairy giant announced the news following a review of its dairy operations in Scotland.
It said an "unprecedented 25% surge" in Scottish farm milk production meant it was being forced to haul 180 million litres of excess milk to England for processing every year.
Farmers who have been served notice are believed to be those located to the north and west of Aberdeen – an area described by Muller as one which presents "heightened or complex logistical challenges".
As well as serving a 12-month notice on more than half of its north-east suppliers, Muller is to introduce a tiered transport charge for dairy farmer suppliers in Scotland from February next year.
This will be calculated based on how much a farmer has expanded his or her milk production between 2017 and 2019, and will range from 0.25p to 0.85p for every litre produced.
"We fully appreciate that these measures will be extremely unwelcome and destabilising for our farmer suppliers, particularly in the north-east of Scotland, but the current situation is unviable and we must act," said Muller milk supply director, Rob Hutchison.
"Our farm services team will now work closely with affected dairy farmers and we will do everything in our power to help them adjust to the changes which we must now make."
Earlier this year Muller confirmed plans to close its Aberdeen distribution depot.
This follows the closure of its Aberdeen milk processing facilities in 2016 – a move which resulted in many of its farmer suppliers in the region having to pay 1.75p per litre of milk produced to get it transported to the central belt for processing.