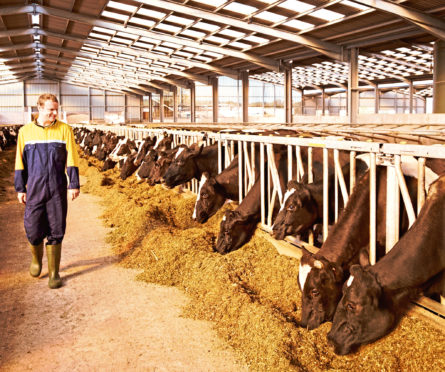 One of the main milk buyers in the UK has announced plans to create a massive database to help farmers reduce their carbon emissions.
Arla – a European farmers' co-operative with around 2,300 UK dairy farmer members, including some in Scotland – says its new Climate Check database could triple the speed of carbon emission reductions on dairy farms over the next 10 years.
It says trials have shown the system, which requires farmers to input information about every aspect of their farm, can help producers reduce carbon emissions by as much as 4% a year, but an average reduction of 3% is likely.
"The Climate Check database will measure each dairy farm's emissions," said Arla.
"It will then recommend changes to the way the farmer operates, allowing them to continue to reduce their carbon footprint."
The dairy giant, which produces Lurpak, Cravendale and Anchor, said annual carbon emission reductions of 3% would help it meet its target of reducing total emissions by 30% by 2030, however its ultimate goal is to be a net zero carbon emissions company by 2050.