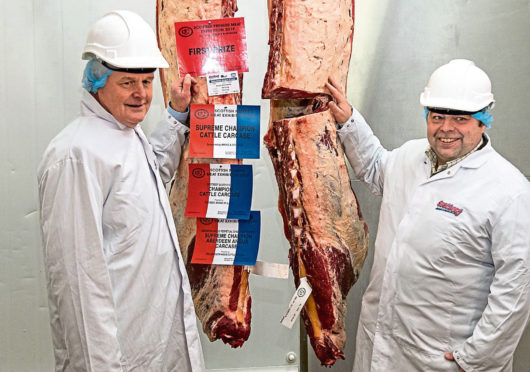 Following a tough year for retailers, processors and producers, signs are now appearing of the first tender green shoots of some recovery in Scotland's beef sector.
Speaking at the Scottish National Premier Meat Exhibition on Saturday, Scotbeef boss Robbie Galloway said that while he did not want to overplay the issue, things were beginning to look more positive for the sector. He said with a summer which failed to trigger the usual boost in demand and an overhang of frozen stocks in the system from the threat of a March Brexit now behind the industry, it had taken the beef sector two or three months to promote its way out of the problem.
On the lamb front there were also some positive growth figures. Mr Galloway said that, rightly or wrongly, in the midst of the climate change debate some consumers viewed eating lamb as being more environmentally friendly than beef – and had switched to this meat. There was more positive news for sheep producers from Steve McLean, head of agriculture with Marks and Spencer, who revealed that following the move taken two years ago to ensure that all fresh lamb sourced in the chain's Scottish stores would be sourced from Scotland, this approach would now be extended.
"We will source all our fresh lamb from British farms for our British stores rather than switching to New Zealand supply in the trough period as we have done historically," he added.
With this trough period when British lamb was replaced by NZ chilled supplies lasting four and a half months the effects could be significant for the UK lamb market. He added that as well as the overall increase in demand, M&S were looking at offering supply contract agreements for British lamb through the trough period – and while the details were still being finalised he said that such a move would offer considerable security to producers willing to supply at that time of year.
The results
Awards Champion beef carcase – Gavin Ross of Ross Brothers, Wardhead Farm, Strichen, Fraserburgh with an Aberdeen-Angus cross bought at Thainstone and bred by Ian and Elizabeth Watt of West Cullarely Echt.
Reserve – J Thompson, Smallburn Farm, Longhorsley, Morpeth with a Limousin cross.
Aberdeen-Angus-sired carcase – Ross Brothers. Pure Angus carcase: M and HD Currie, Skewbridge, Mousewald, Dumfries.
Prime cow carcase – D and V Buchan, Savoch, Longside, Peterhead.
Premio Speciale Italiano award – Ross Brothers with a British Blue cross.
Young Livestock Producer (YLP) Junior champion – Miss Selina Gordon, Clochnahill, Stonehaven.
Champion lamb carcase – R Templeton and Co, Carslae, Wigtown, Newton Stewart with a Beltex cross.
Reserve – Carrick Primestock, Lyon Park, Lyonston, Maybole, Ayrshire.
Blackface champion – HF Hamilton, Glenmanna, Thornhill Dumfriesshire.
Reserve Blackface – J and T Macpherson, Pitsundry, Bankfoot.
Champion native – Carrick Primestock.
Champion cheviot – CR Graham and Sons, Carruthers Farm, Lockerbie.
Reserve cheviot – WA Mackinnon, West Dron, Bridge of Earn.
North Country Cheviot – CR Graham and Sons.
Champion export lamb – R Templeton and Co, YLP
Senior champion – Moir Livestock, Home Farm, Cairness, Fraserburgh.
YLP Junior champ – Amy Bryce, Chalmerston, Stirling.