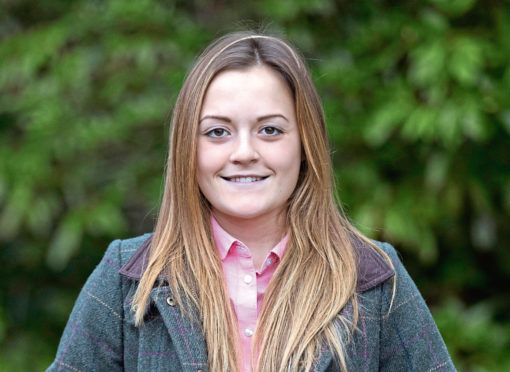 Each month we speak to a Young Farmer. This month we spoke to Aimee Budge, 22, from Shetland.
Where do you stay?
Bigton Farm, Shetland.
Do you hold any office-bearer roles at Young Farmers?
Secretary.
What's your background in agriculture?
I have lived on our family farm all my life so have been involved with farming since I was peerie. I studied at SRUC Craibstone for three years and now I am running the farm at home alongside my sister.
What do you do for an occupation?
Farmer.
What sparked your interest in agriculture?
My love of being outdoors and my passion for animals. I used to love working with my dad whether that be tractor jobs, working with cows or mucking out. My dad had a huge passion for agriculture and I looked up to him which definitely started my interest in agriculture. I started riding ponies when I was three, which taught me commitment, dedication and my love for looking after animals.
What is the most rewarding thing about working in the farming industry?
The pride I feel for rearing livestock from farm to fork to the highest quality. And being the custodian of the land passed through generations to the present and on to the future.
As rural youth, do you think there is something we should be doing additionally or differently within the agricultural sector?
Invest in SRUC to develop a more practical aspect of the course. We need to promote the benefits of working in the farming industry to the youth of today while also recognising that increased profitability would enable more young people to earn a more sustainable salary.
We need to promote our high quality products of Scotch Lamb and Beef to gain the support of the public to increase profitability. For me I am focusing on breaking down the gender barriers within the sector.
Where do you see the farming sector in 10 years' time?
Who knows. But if pushed I would hope we can continue to farm our amazing quality produce that we do today. I think technological developments, including robots, will be huge but we might not see that here as we're still working a 50-year-old MF 35.
What advice do you have for someone looking to get into the sector?
Put yourself out there and find the confidence within you. We all have confidence – it grows through experience – so go ask the farm close by if they need a hand or enquire with any area of the sector how you could get involved. There's lots of opportunities out there and the best jobs aren't always advertised.
Everyone is scared of rejection but if you get told no, then you're no worse off and use that as motivation to get a yes next time. Travel, go see the world while you have the opportunity.
Why did you join Young Farmers?
To see what the hype was about – everyone spoke about it at Craibstone.
What do you most enjoy about Young Farmers?
Socialising with like-minded people and the amazing opportunities for rural young folk from travel to meeting new friends.
How has Young Farmers impacted your life?
It allowed me to start a club in Shetland which has introduced me to new people even on this small island. It's important to surround yourself with motivational people and Young Farmers brings together a vibrant, enthusiastic group of people.
Do you have any advice for someone looking to join?
Get involved. Clubs are always looking for new members.