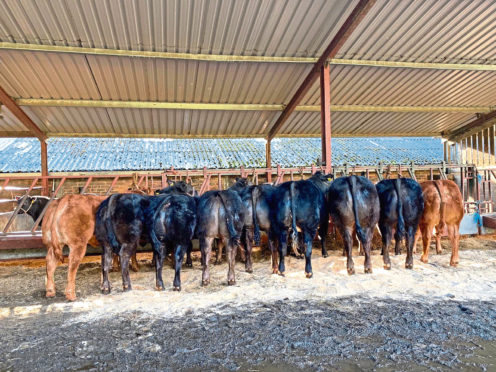 Perthshire father and son team John and Craig Robertson from Newton of Logierait have built up a strong reputation for breeding some of the best commercial calves in the country.
Over the last decade, the duo have produced a number of champion winners and sale leaders at the Royal Northern Spring Show (RNSS) and the Thainstone Spectacular held at Aberdeen and Northern Marts' Thainstone Centre, near Inverurie.
Calves from the 170-cow herd have gone on to win nearly every premier show in the UK.
In 2017 the family set a new RNSS record of £9,000 when they sold six calves to average £4,408.30, while their pre-sale champion at Carlisle in March 2019 sold for £8,000. She went on to win reserve champion at the Balmoral and was overall champion at the Northern Ireland Commercial Cattle Club Summer Spectacular.
Other Logierait calves have sold to £7,800 for the champion heifer at the RNSS in 2018, as well as £6,000 at the Spectacular in 2017.
This was for Jon Snow – a bullock which sold to Dermot and Gareth Small, Kilkeel, Co Down – and went on to stand reserve overall at the Borderway Agri-Expo, Carlisle.
Another Logierait calf, which sold for £3,000 at the Spring Show, won seven championships in the south of the UK for Lin Pidsley, Devon, while a £3,500 heifer purchased by Wilson Peters, Monzie, Crieff, stood champion at several local shows, took first prize at the Royal Highland Show and was champion at LiveScot 2018.
"The Royal Northern Spring Show is our main market for selling and showing our best calves and the success we have achieved over the years has given us the momentum to continue in what we do," said Craig, who farms 1,000 acres near Pitlochry, in partnership with dad John, and John's sister Margaret.
"The event attracts a real buzz and atmosphere, and the online bidding system has been a real advantage to us when selling our calves. Many have sold to producers in the south of England, Wales and Northern Ireland."
Newton of Logierait has been in the Robertson family since 1891 and is home to a herd of Limousin and British Blue cross cows, and a flock of 740 breeding ewes.
The Robertsons, who are busy preparing their nine entries for this year's Spring Show on Wednesday, continually improve their herd by using a variation of stock bulls and keeping 15 to 20 home-bred heifers as replacements each year.
"Most of our cows are home-bred although we do buy in the odd show heifer or a cow with calf at foot," said Craig.
"The ideal cow for us is a three-quarters Limousin with a bit of British Blue breeding in her. We look to breed cows with plenty of width and square plates, and they must be good on their legs."
Limousin stock bulls are usually bought privately, and Craig says they must have a "good top and plates with plenty character and style".
The 4,800gn Powerhouse Harlequin, which was purchased as an 18-month-old bull, and Calogale Irresistible, have sired the four top priced calves in recent years. Other noted bulls are the 13,000gn Whinfellpark Iago, bought privately from the Norman Limousin herd, and British Blue bull Strathbogie Kansas, which sired the £8,000 calf at Carlisle.
This year's line-up for the Spring Show from Logierait includes seven heifers and two bullocks.
Two of the heifers are by Jalex Itsallgood, one of which is a half-sister to the LiveScot 2018 champion, while the others are by Iago, Harlequin and Kansas.