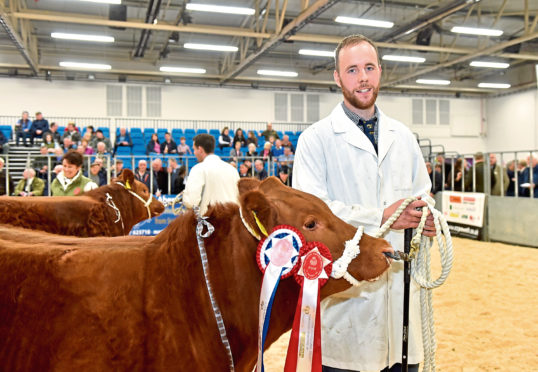 All roads lead to the Thainstone Centre, near Inverurie, on Wednesday for this year's Royal Northern Spring Show.
The event, organised by the Royal Northern Agricultural Society (RNAS), is expected to attract a large entry of top quality beef cattle, as well as prime and breeding sheep, from across Scotland.
NorthLink Ferries has been unveiled as the new major sponsor for the event's flagship exhibition cattle classes.
The move was welcomed by RNAS president Keith Walker, Kirkton of Rayne, Inverurie.
"We are delighted that NorthLink Ferries have come on board to support the show and grateful for the sponsorship the company is providing for what many consider to be the most important part of the show," said Mr Walker.
NorthLink Ferries managing director Stuart Garrett said the company ships around 2,500 cattle and 140,000 sheep a year from the Northern Isles to the mainland.
He said: "The shipping of livestock is a key sector of our business.
"We look forward to developing a mutually beneficial partnership with the Royal Northern Agricultural Society by providing sponsorship for the Spring Show which is one of the most important shows in the Scottish agricultural calendar."
Other main sponsors of the show include Grampian Steel Services Ltd (carcase cattle), Turcan Connell (horses and ponies) and Campbell Dallas (show and sale of bulls conducted as part of the show by Aberdeen and Northern Marts).
Next year the show will be celebrating its 175th anniversary.
Secretary and organiser Alison Argo reports that this year's show is again a sell-out. All outside and inside stands have been taken up by the trade stand exhibitors.
Mr Walker said: "With Brexit behind us, plenty of feed in the barn for stock and assurances of continued government support for the foreseeable future – coupled with buoyant demand for both cattle and sheep – trade stands will be looking to do good business as farmers seek to reinvest for the future.
"The show has always been recognised as one in which the farmers do real business. I'm sure this year's will live up to exhibitors' expectations."