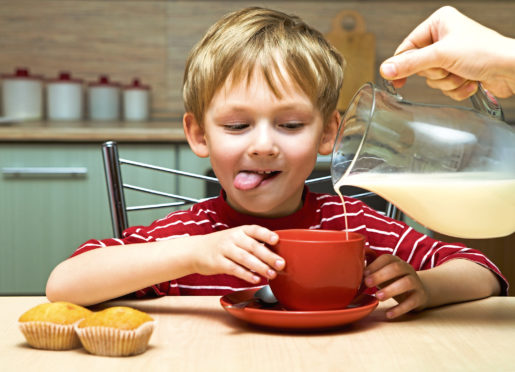 A £1 million promotional campaign to encourage shoppers to buy more milk and dairy products will launch next week.
The 12-week campaign, which is led by the UK dairy sector in partnership with government, will highlight the role of fresh milk and dairy during the Covid-19 crisis.
It comes during a period of significant upheaval in the dairy sector, due to the closure of restaurants, cafes and foodservice outlets.
Many farmers have been forced to pour milk down the drain and more than half have had their milk price cut due to market disruption.
The campaign has been funded by £500,000 from the four governments across the UK, £300,000 from processors' body Dairy UK, and £200,000 from levy body AHDB.
It will focus on promoting the use of milk in tea, coffee and other hot drinks, whether it's a virtual cup of tea with family or a frothy latte with friends.
It will appear on social media and, for the first time in a decade, on TV.
"Everyday moments of human connection are especially important during this crisis," said Dairy UK chief executive Dr Judith Bryans.
"With this campaign we want to highlight the central and sometimes forgotten role that dairy plays as part of our everyday lives.
"We want to remind people of the importance of taking a moment to connect with each other, while enjoying the foods they love, even if it is remotely."
AHDB chief marketing officer Christine Watts said the campaign would remind consumers about the importance of dairy.
She said: "We know that consumers love milk and the great taste of dairy, but because it's such an integral part of our lives, consumers tend to take it for granted, in the same way we all tend to take our day-to-day relationships as a given."
Rural Economy Secretary Fergus Ewing welcomed the campaign and said the efforts of the farming sector to keep people fed in these unprecedented times had been "truly astonishing".
He added: "With the sudden closure of cafes and restaurants, some dairy farmers and producers have lost their market and are struggling.
"That is why I am delighted that the Scottish Government is contributing to this campaign to support dairy farming.
"I would encourage everyone in Scotland who can take part to support local farming and food production."
Defra Secretary George Eustice echoed Mr Ewing's comments and said he hoped the campaign would drive milk consumption and boost sales.
He added: "Our dairy industry plays a crucial role in feeding our nation and we want to support them however we can at this challenging time.
"We have already relaxed competition rules so dairy farmers can work more closely together on the challenges they are facing, and will continue to support them through this difficult period."