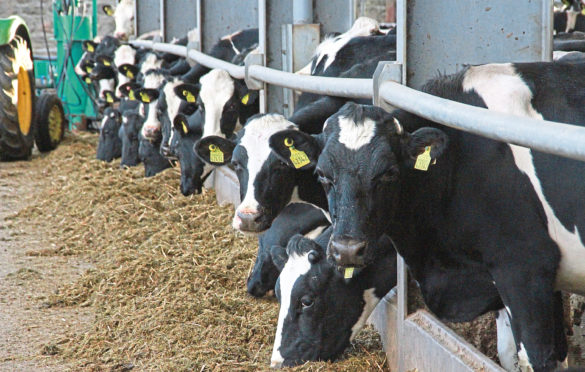 Scottish dairy farmers who have been holding out hope of a support package similar to that announced for their English and Welsh counterparts look set to be disappointed.
Scotland's Rural Economy Secretary Fergus Ewing said yesterday he didn't believe the proposed aid package for farmers in England and Wales who have lost more than 25% of their milk income during April and May would be effective here.
He made the comments after a meeting this week with leading representatives of the Scottish dairy industry.
Mr Ewing said details of the package being proposed south of the Border were still not clear, but it was his understanding the support wasn't new money, but would instead be funded by slicing off some of next year's basic payments due to all farmers.
He added: "In my discussion with a group from the (Scottish) dairy sector there was scepticism of the Defra proposal which isn't fully worked out yet.
"Will other English farmers be paying the dairy farmers with part of their own basic payment? I'm not sure would go down hugely well. And I'm not sure a compensation package is sufficient in cash terms to be effective.
"At the meeting this week it was the view it wouldn't necessarily solve the real problem, rather it might be seem as ticking a box and giving the impression the problem has been solved when it hasn't."
The farmers' union's milk committee chairman, Gary Mitchell confirmed the committee had met in private with Mr Ewing to discuss the impact of Covid-19 on the sector.
He added: "We are desperately keen to help dairy farmers but the way the scheme for England has been put together needs a serious amount of clarification. Details on how the scheme will operate and how producers would apply are still unclear.
"We do need to make sure that the worst affected are helped. We continue to look at what measures would best support Scottish dairy farmers going forward."
Mr Ewing made it clear if dairy farmers in Scotland could demonstrate real hardship, he would be open to "considering what could be done".
He also said the government might be able to help with support in future for more processing capacity, to help broaden opportunities for producing powdered milk and other produce. He said another long-term solution to the vulnerability of individual farmers in both the dairy and beef sectors was to look again at the co-operative model.
"Co-ops are a way of farmers reducing costs, retaining premium prices and also increasing their bargaining in the food supply chain," he said.
"It's a model that's been tried and tested in the farming world. The difficulty is persuading individual farmers to depart from an existing system where many are happy with the relationship they have with processors.
"I'm not here to castigate meat or milk processors, many have excellent relationships, but overall the co-op model has much to commend it and might be one answer."
A Defra spokesman said detail on the support fund would be issued in due course.