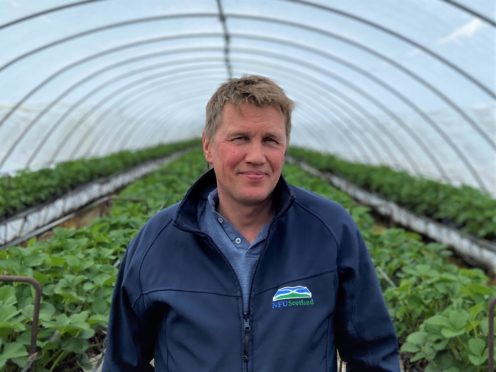 Specialist fruit and vegetable growers must be given access to foreign staff once furloughed UK workers are able to return to their jobs.
NFU Scotland's horticulture committee chairman James Porter, who runs a soft fruit enterprise near Carnoustie, made the comments in response to the recent easing of Covid-19 restrictions.
He said concerns over travel restrictions on seasonal workers led to the NFUS setting up an employment page on its website, outlining opportunities available for UK workers, including those on furlough.
"There has been a huge response – many furloughed workers have applied and are already working on farms," said Mr Porter.
"That is only a stop-gap measure however, as these people are likely to return to their old jobs and we need to ensure that fruit and vegetables can continue to be picked efficiently in Scotland."
He said it was vital fruit and vegetable growers could safely bring in highly-skilled returning workers from abroad as coronavirus travel restrictions are eased.
"A huge amount of work has been put in to establishing safe working practices for all our agricultural workers and the NFUS has played a major part in feeding into the guidance that the Scottish Government recently published," added Mr Porter.
He said he had recently given evidence to the UK Government's migration advisory committee on the sector's reliance on non-UK workers, during which he renewed the union's plea for the opening of a permanent seasonal agricultural workers scheme with a quota of at least 70,000 workers from 2021.
"Horticulture requires this dedicated workforce and without help from our friends from the east we won't be able to navigate our way through these stormy times," added Mr Porter.