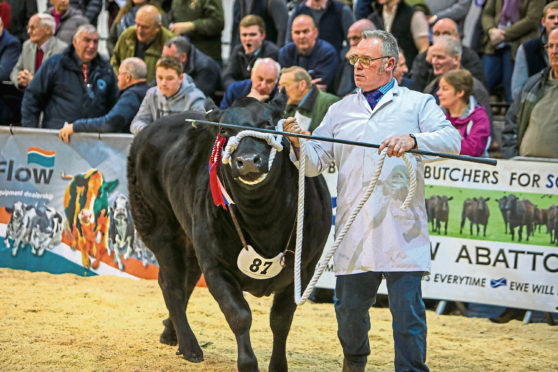 One of the main winter livestock events in the Scottish farming calendar is set to go ahead, but in a scaled-back format due to Covid-19 restrictions.
The LiveScot show, which is organised by the Scottish National Fat Stock Club (SFNSC), will be one of the few agricultural events to go ahead this year.
The majority of agricultural dates, including the Royal Highland Show in June and AgriScot in November, have been cancelled due to the coronavirus pandemic.
SNFSC said in order to ensure a safe event, LiveScot will only feature an exhibition of prime cattle and sheep in their pens, followed by a sale of the animals.
All entries must be offered for sale, and all other sections of the event have been cancelled for 2020.
"The trustees have made this decision as we feel that the club has a responsibility on behalf of our members to provide an outlet for their top quality stock," said SNFSC chairman, David McKerrow.
"Having spoken to some buyers there is a desire for this to take place and this will supply our regular butchers with the opportunity to purchase some top end stock on the lead up to the Christmas period."
He said the club's priority was keeping everyone safe, and unless there is an easing of restrictions only registered buyers and a limited number of vendors will be permitted into the show at the Lanark Agricultural Centre on November 28.
"At the forefront of our minds has been and will continue to be the health and safety of all involved," added Mr McKerrow.
"Government Covid-19 restrictions will be strictly adhered to and we will continually assess guidelines and any changes going forward."
He said talks are ongoing regarding the Premier Meat Exhibition and a decision on whether it will go ahead will be made soon.