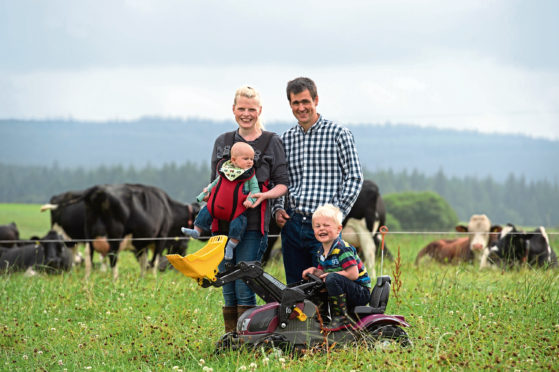 A new dairy enterprise is up and running on an organic farm in Moray.
Gordon Whiteford, along with his wife June and their two young children Alexander and Struan, have made the bold move into dairy farming and brought black and white cows back to Banffshire.
While other dairy farmers are exiting the industry, the Whitefords have seen an opportunity to build on the success of their existing egg business and offer consumers more produce from their organic enterprise at Lower Mill of Tynet Farm on the Fochabers Estate.
The family has a small herd of 40 cattle and milk from around a dozen cows is being sold through a vending machine in their on-farm shop.
"I was brought up on a dairy farm in Ayrshire and also wanted to get into farming," said Mr Whiteford.
"We started keeping hens at Ardersier in 2005 and then in 2012 the farm tenancy came up on the Fochabers Estate.
"In 2013 we started to shift the hens over and we took on the next door farm last year – both farms are about 370 acres together."
He said the family currently runs 9,000 organic hens, including white ones which produce distinct white eggs and a new shed is being built to bring numbers up to around 12,000.
"Most of the eggs are marketed by ourselves and we put some to Farmlay Eggs in Strichen," said Mr Whiteford.
"We sell them ourselves through a vending machine at the farm and to cafes and restaurants – we have a big customer base in Inverness and Aberdeen."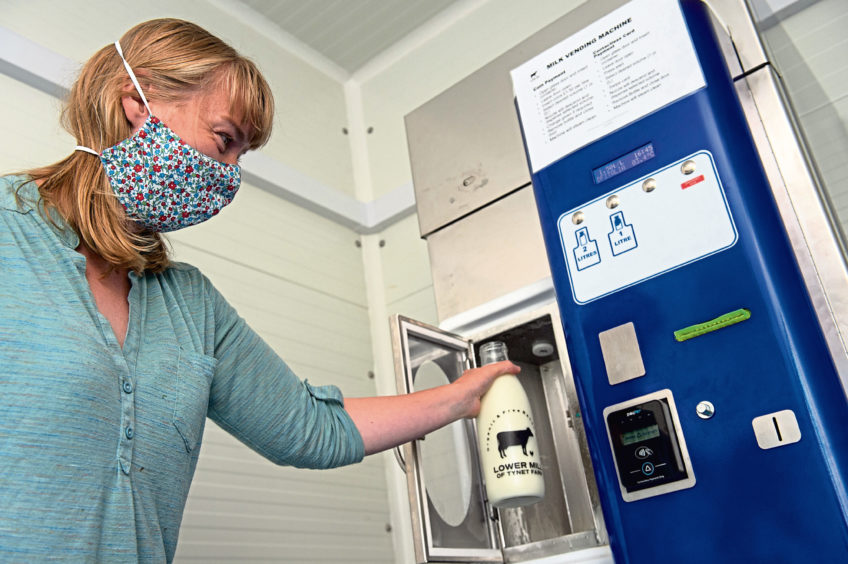 He said his background in dairy farming had spurred a lifelong desire to get cows of his own to milk and the farm's dairy venture was four years in the making.
"We bought in our first calves four years ago," he added.
"We got a Leader grant for the pasteuriser and vending machine, which covered around 70% of the costs and we managed to get a second-hand milking robot out of Aberdeen."
He said the farm shop, which houses an egg vending machine and a milk vending machine, has been relocated to the bottom of the farm road to make it more accessible to customers.
"We are also waiting to get in a new vending machine to sell vegetables, honey and chutney," added Mr Whiteford, who said the long-term aim was to grow vegetables on the farm to supply the shop.
He also hopes to use the shop to sell meat from the farm's 60-ewe sheep flock and any beef calves produced from the dairy herd.
The dairy cows at Lower Mill of Tynet are run on an innovative cow-with-calf system, which is only run on a handful of farms in Scotland.
"It's a cross between a suckler system and a dairy system," said Mr Whiteford.
"After the cows get milked in the morning, the calf goes with its mother and they are separated again when they come in at night."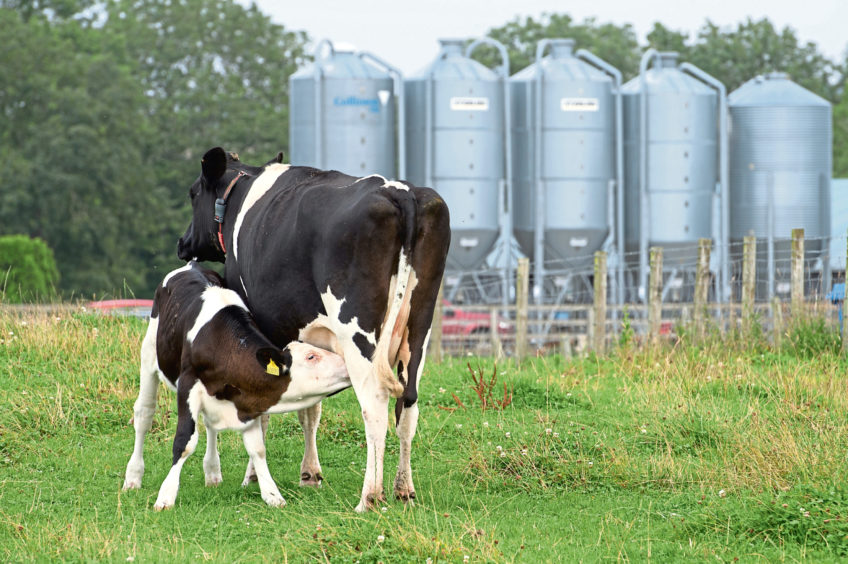 He said the system was stress-free for the calves, which receive straw and water at night and they are achieving average growth rates of 1.3kg per day.
The cattle are mainly Holstein Friesian, but Mr Whiteford plans to create a pro-cross – a three-way hybrid between a Holstein, Montbeliarde and a Viking Red or Swedish Red.
"It has the yield of a Holstein, the health benefits of the Viking or Swedish Red and a bit more flesh from the dual-purpose Montbeliarde," said Mr Whiteford.
"I don't want to be milking more than 30 cows – the shed could cope with that."
He said milk sales, which have been running for two weeks, have been a success and he is in talks with restaurants and cafes about supplying milk to them as well.