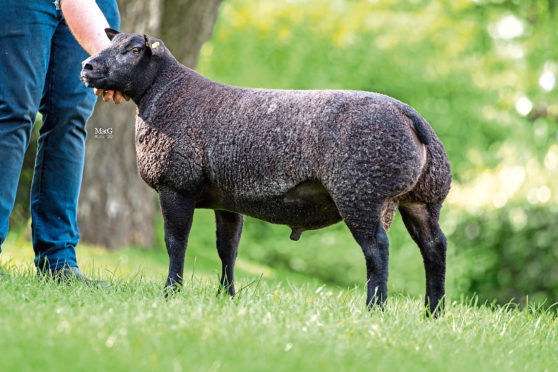 A breed record for a Blue Texel was set when a ram lamb went under the hammer for 25,000gn at the breed's Northern Supreme sale in Carlisle.
Harrison & Hetherington oversaw the sale of the record-breaker from Steve and Sara Gibbons' Brecon-based Whatmore flock.
The topper, selling to Messrs Jewitt, Romaldkirk, Barnard Castle, Co Durham, was February-born Whatmore E-Male. One of the first sons of Whatmore Chaos to be sold, he is out of Whatmore Banoffi.
Next best at 6,500gn was February-born ram lamb Pistyll Everest from the Francis family's Pistyll flock in Abergorlech, Wales.
An embryo transfer (ET) son of Caryl's Blues Dazzler, he sold jointly to Annan breeder Kevin Watret for his Solway flock, and the Tippets for their Hackney flock in Shropshire.
Other leading prices included 6,000gn for March-born ram lamb Matt's Escobar from Northern Ireland breeder Matthew Burleigh. An ET son of Saltire Blue Derek, he sold to Stasa Moyse for her Saltire Blues flock at Woolhillock, Skene.
Ms Moyse also paid 5,500gn for February-born Pistyll ram lamb Pistyll Elite, which is an ET son of Caryl's Blues Dazzler.
Meanwhile, females topped at 6,000gn for a gimmer from Ms Moyse.
This was Saltire Blue Doris, an ET daughter of Caryl's Blue Captain and out of Saltire A Beauty. She sold to Messrs Bowring, Langwith, in Nottinghamshire. Ms Moyse also made 5,500gn and 4,500gn twice for gimmers.
At 5,500gn, selling to Messrs McFarland in Co Tyrone, was Saltire Blue Dawn, by Caryl's Blue Captain.
The first at 4,500gn, selling to Messrs Bowring, was Saltire Dreamer, an ET daughter of Caryl's Blue Captain.
The other, selling to the Page Farm Partnership in North Yorkshire, was Saltire Damson which is another ET daughter of Captain.
The averages were: Gimmers, 91, £1,186.15; ewe lambs, 59, £724.14; aged rams, four, £1,010.62; shearling rams, 64, £976.99; and ram lambs, 86, £1,218.36.