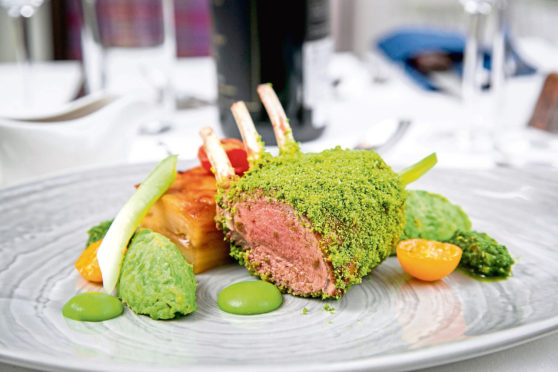 A trio of north-east eateries are preparing to serve special dishes featuring Scotch Lamb as part of a week-long celebration of British lamb.
Love Lamb Week, which starts today and is backed by industry bodies including Quality Meat Scotland (QMS) and the National Sheep Association, aims to highlight the quality, taste and nutritional benefits of lamb produced in the UK.
Special dishes will be served at Banchory Lodge Hotel in Banchory, the Newmachar Hotel in Newmachar, and the Porterhouse Steakhouse and Coffee Bar at the Thainstone Centre, near Inverurie, as part of the celebration.
The special dishes on offer include a roast cannon of lamb with couscous, spinach and red pepper ketchup at Banchory Lodge Hotel.
A braised lamb shank with red lentil stew and parsley salad is on the menu at the Newmachar Hotel, with a herb-crusted rack of lamb and boulangere potatoes, peas, bacon and salsa verde at the Porterhouse.
"Coming from a farming background in the north-east, with the focus of both my dad and granda on rearing Scottish Blackface to the highest standard in quality and welfare, it is an honour to be involved in Love Lamb Week with QMS," said Banchory Lodge head chef, Scott Stephen.
"This focus is still ingrained in me and we only use quality Scotch Lamb at Banchory Lodge."
QMS director of marketing and communications Lesley Cameron praised the three eateries and said: "The creativity that has gone into the creation of the Scotch Lamb dishes across Scotland has been really impressive and really helps us to highlight the versatility of cooking with lamb."
Love Lamb Week, which runs until September 7, coincides with the launch of the levy body's Make It Scotch Lamb campaign promoting Scotch Lamb's flavour and versatility as well as its environmental and health credentials.