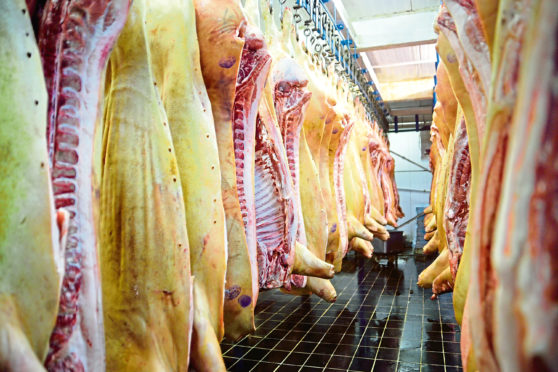 One of Scotland's smallest meat processing plants is to temporarily close for 14 days following an outbreak of Covid-19 in its local area.
Grantown-based Millers of Speyside, which processes beef and pork, said it had taken the decision to close its facilities for two weeks, effective from last night, due to a cluster of coronavirus cases in the area.
It said that although authorities had said the facility could stay open, the business had taken the "ethical decision" to close to protect its employees and the local community.
"The health and wellbeing of our staff here at Millers of Speyside, who have worked tirelessly through the pandemic to ensure continued food production, is of the utmost importance," said Millers of Speyside managing director Sandy Milne.
"To prevent further spread of the virus among our employees and the local community, we have opted to close our facility for 14 days."
Alan Clarke, chief executive of red meat industry body Quality Meat Scotland, said the organisation had worked hard with red meat businesses to ensure they followed new guidelines to enable them to continue operating safely during the Covid-19 crisis.
He said: "Millers of Speyside, like other Scottish food businesses, has whole-heartedly embraced these measures and has followed all guidelines, to isolate the spread of infection, protecting the health and wellbeing of their workforce and the local community.
"We wish those who have been infected a speedy recovery."
Grantown farmer Robert MacDonald, who is chairman of NFU Scotland's less favoured areas committee, said: "The priority is safety and the owners of the plant, a significant employer in the area, have rightly put the health of their employees and the community
first.
"We will keep an eye on the wider supply chain over the coming days to monitor if there is any disruption from the difficult situation that the plant finds itself in."
The news of Millers' decision to suspend production follows the discovery of a cluster of five cases in Grantown on Tuesday and the closure of Deshar Nursery at Boat of Garten for seven days after a staff member tested positive for Covid-19 in Grantown.
Meanwhile, a staff member at Tesco in Inverness has tested positive for coronavirus, the supermarket giant has confirmed.
A spokeswoman for the chain said staff at its Eastfield Way store are following Scottish Government guidance and taking relevant precautions.
It is understood the staff member did not contract coronavirus while in the workplace.