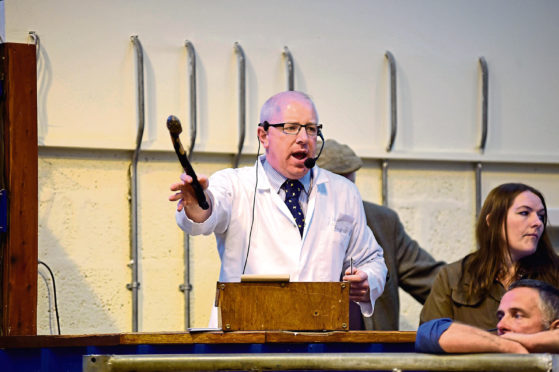 A well-known auctioneer in the north has been appointed president of the Institute of Auctioneers and Appraisers in Scotland (IAAS).
Donald Young, group director of United Auctions who oversees the company's operations in the north of Scotland, including the running of the Huntly and Lairg auction markets, is the new president of the livestock auctioneers' trade body.
He replaces Scott Donaldson from Harrison & Hetherington in Carlisle.Mr Young was part of a management buyout at United Auctions four years ago, and sells livestock on a weekly basis.
"During these challenging times of the Covid-19 pandemic and the extra pressures of maintaining a physical distance in line with Scottish Government guidance, it has never been more important that we keep trade functioning as livestock values climb," said Mr Young.
"Auction markets remain the most open, fair and efficient way of getting livestock to the right customer and achieving the maximum possible values."
He added: "I look forward to working with the board of IAAS to ensure the strength and integrity of our industry continues to increase."
IAAS executive director Neil Wilson welcomed Mr Young's appointment and paid tribute to his predecessor.
He said: "Strong leadership is more important than ever in uncertain times and we are delighted to welcome Donald to his new role. He has many years of hands-on experience to help us navigate this unusual period and beyond.
"We would also like to thank Scott Donaldson for all his diligence and hard work over the years, and not least throughout the pandemic, when the institute has remained committed to supporting the livestock trade to continue, implementing guidance and measures to support the individual marts for the benefit of our members, the supply chain and the rural economy."