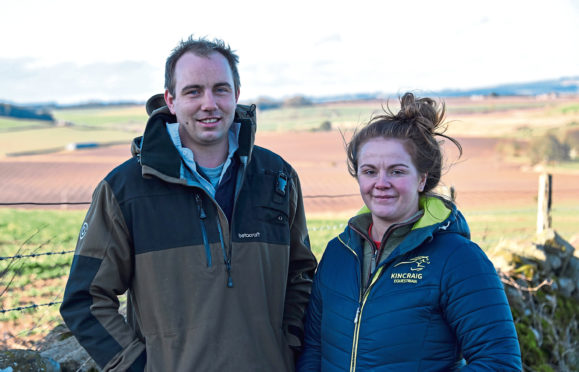 An Aberdeenshire farming couple is embarking on a series of trials as part of a three-year programme to future-proof their business and make it more sustainable.
Ben Lowe and Harriet Ross are new entrants at Newseat of Dumbreck Farm near Udny, Ellon.
They took on a three-year tenancy on the 395-acre farm in July 2019, and they are one of four farm businesses taking part in the Resilient and Ready programme.
Run by crop protection and seed giant Corteva Agriscience and sustainable farming organisation Leaf, the programme aims to help farmers make their enterprises fitter for the future by introducing cutting-edge sustainable farming techniques to their farms.
Participating farmers will also be offered access to sustainability experts and given communications training to provide them with the tools to become industry leaders.
"We're just starting out on our farming journey so it's important that we shape our business to be resilient and ready for the future," said Ms Ross, who also works as a farming consultant with Strutt & Parker.
"We're looking forward to sharing insights from this journey with other people who may have similar goals."
The couple keep pigs and cattle on a bed-and-breakfast basis, and grow just under 100 acres of grass silage for a nearby anaerobic digester.
The remaining land is cropped in tandem with 450 acres of land farmed nearby by Harriet's father.
Mr Lowe, who also works as an agronomist for Agrovista, said a key focus of the couple's involvement in the programme would be introducing an integrated approach to farm management at Newseat of Dumbreck.
This includes exploring measures to increase soil health and biodiversity, such as revising crop rotations, trialling winter grazing, greening measures, and spreading digestate on to grass leys after mowing.
The couple is also looking at how manure can be enhanced during storage with the use of biologicals and incorporating additional nutrients such as sulphur, manganese, copper and zinc, to reduce reliance on spray applications.
Mr Lowe said: "We're looking into whether worm numbers can be built up in the manure before application.
"Cover crops are another thing we're keen to try to improve soil health, but they're difficult to grow in Aberdeenshire. We're now thinking about under-sowing them with grass and conducting trials on farm to compare the impact of this."
Other projects as part of the programme include drilling a pipeline oilseed rape variety and biostimulant trials investigating weather stress.
Corteva's marketing manager, Simon Parker, said the focus of the Resilient and Ready programme was to translate technical insight and training opportunities into commercial applications.
He added: "We want to follow farmers through the process so others can see what hurdles there are, how much it costs, and the economic implications of implementing new sustainability measures."
The programme involves two farms in Scotland and two in England.
The other Scottish farmers involved are Craig and Claire Grant from Kindrought, Fraserburgh.