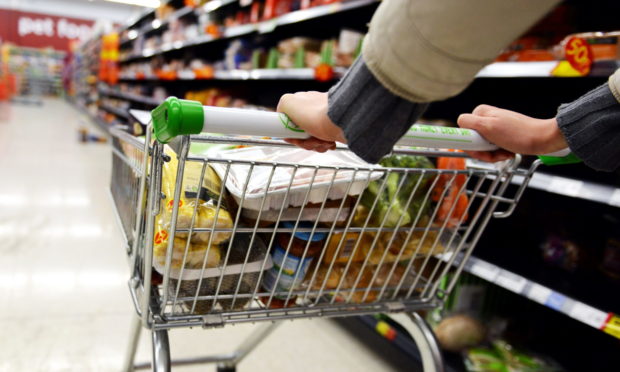 Two-thirds of Scottish shoppers are looking to buy more home-grown produce due to the Covid-19 pandemic and Brexit, new research claims.
The study, released by Barclays bank, also reveals 56% of Scots want to support farmers more so the agriculture industry can become carbon neutral.
Just over half say they would like to see a dedicated aisle in shops for sustainably sourced foods and 65% said shops needed to provide better information on how shoppers can improve their carbon footprint.
The research also revealed 49% of Scottish shoppers are looking to buy more seasonal produce and more than half a million who had never visited a farm shop before the pandemic, now do so on a regular basis.
Almost two-thirds believe food shopping at local stores or farm shops is better for the environment and 57% believe these outlets are helping them to better understand where their food has come from.
Barclays said the publication of the research coincided with the launch of its Sustainability Through Agri-Tech campaign, which aims to support the agriculture industry in becoming carbon neutral by 2045.
The campaign is backed by world-renowned rugby union referee and Welsh farmer Nigel Owens MBE.
"Looking at ways the economy can recover post-pandemic, we all have to realise our individual and collective roles in helping the nation become more aligned with its sustainability goals," said Mr Owens.
"We must move forwards together, like a collective scrum pushing towards the touch line, to achieve the carbon net zero targets the farming industry has set for itself."
He said consumers could help farmers reach these targets by learning about food, where they should buy it and how farms in the UK are making progress to become carbon neutral.
Mark Suthern, national head of agriculture at Barclays Business Bank, said the research also revealed 57% of farmers plan to sell and process at least some of their produce in the next three years.
He added: "Consumer awareness of their own environmental impact has increased exponentially over the last few years and it's great to see that Brits are supporting farmers in becoming carbon net zero with new shopping commitments.
"Farming businesses are already making huge strides in meeting the 2045 target set by the Scottish Government to become carbon neutral, but it's important that we, as consumers, recognise the importance of supporting the sector to meet that target."
The survey also found 84% of Scottish farmers believe they could make their businesses carbon neutral by 2035, 20% believe they are already carbon neutral and 60% say the pandemic has been a catalyst for them to think about how they can make their businesses more sustainable.