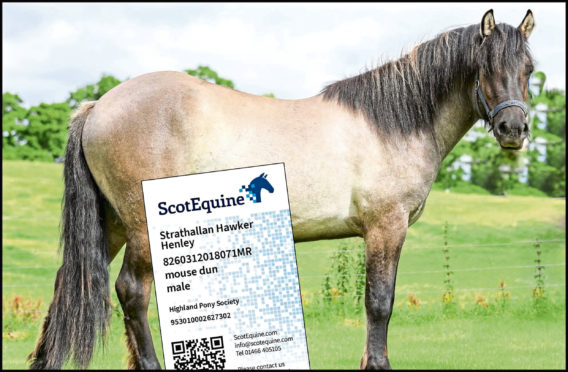 Horse and pony owners across Scotland are being asked to join a new nationwide equine scheme.
The ScotEquine card scheme aims to help the sector cope in the event of a disease outbreak by linking horses and ponies to owners and tracking where they are located.
By registering for the scheme, horse and pony owners can apply for a ScotEquine card which saves them the hassle of carrying around existing paper passports when taking horses to shows and events.
Aberdeenshire riding school and livery owner Julie Thompson, who runs Wardhaugh Farm Riding Centre near Inverkeithny with her daughter Andrea, welcomed the scheme.
"We offer hacks from one hour to a full day and theoretically we should have our horses' passports with them so should we be stopped we have all their details," said Julie.
"Taking the paper passports out on the hacks isn't practical and, if asked, we then have three hours to produce the details for our horses.
"If we are out for the day this wouldn't be possible.
"But with the ScotEquine cards, we can put them in a bum bag for the ride leader to carry so we can always have their passport details to hand."
She said the scheme would also be beneficial for horses which are on part-loan to riders.
"Part-loaning a horse or pony is a convenient way to get that first step on the horse-owning ladder and we have several people who part-loan some of our riding school horses," added Julie.
"This means they have several people connected with them, rather than a single owner.
"With the ScotEquine scheme you can allocate several individuals to a horse's database record and issue a card for each to carry."
Perthshire Highland pony breeder Morven Campbell also welcomed the scheme and said it would help manage any disease transmission risk when attending shows or buying in or loaning new stock.
She said: "Having a ScotEquine card makes sense and I'd recommend anyone who is a keeper of a horse and moves their horses around to get one."
Full details of the scheme, including information on how to sign up, are available here.