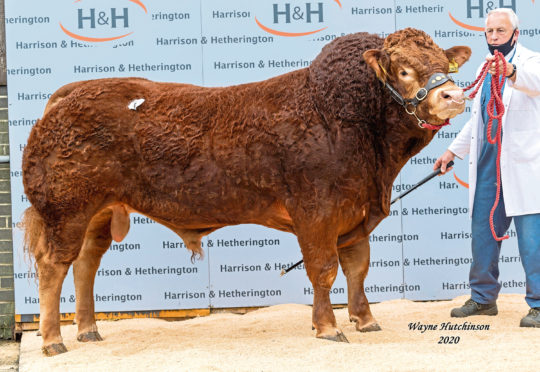 Limousin bulls sold to 35,000gn at the breed's autumn sale in Carlisle.
The sale topper was March 2019-born Ampertaine Punch from WJ & James McKay, Maghera, Co Derry, Northern Ireland.
By the 35,000gn Ampertaine Majestic, he sold to Boden & Davies Ltd for the Stockport-based Sportsmans herd.
Next best at 24,000gn selling to the Garyvaughn herd in Wales, was Gorrycam Phantom, by Lodge Hamlet, from S Reel, Co Down.
Other prices included 16,500gn for Maraiscote Pedro, by Bassingfield Machoman, from Wishaw breeder Ian Nimmo, selling to Columbjohn Farm, Exeter.
Messrs Baillie at Tankerness, Orkney, paid 14,000gn for Redriver Powerful, by Lodge Hamlet, from the Hunters at Upper Brydekirk, Annan, Dumfries.
The Callion family, which runs the Lodge herd near Stirling, paid 11,000gn for Millgate Paul, by Millgate Jack, from M Loughran, Dunamore, Co Tyrone.
Other prices included: 8,500gn for Spittalton Partner, by Dylans Irnbru, from J Burnett & Sons, Upper Spittalton, Blair Drummond, selling to Messrs Miller, Canonbie, Dumfries 7,500gn for Wedderburn Oochaboy, by Foxhillfarm Jenson, from JK Hunter, Wedderburn, Huntly, selling to Messrs Duncan, Keig, Alford; and 7,500gn for Bernish Platini, by Wilodge Cerberus, from K McCrory, Omagh, selling to Emslies Livestock, Peterhead.
In total auctioneers Harrison and Hetherington sold 60 bulls to average £6,725.25 – up £905.87 on the year.