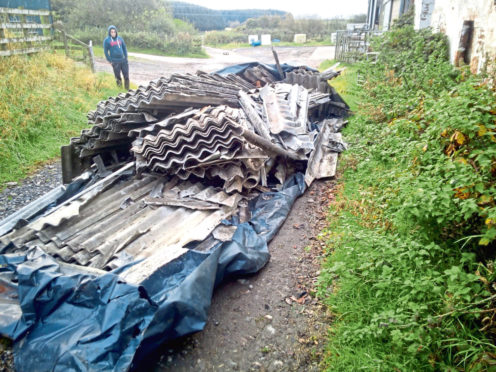 A Dumfriesshire farmer is facing a four-figure bill to have a lorry-load of hazardous asbestos cleared up after it was dumped on his land.
John Jamieson, from Broats Farm near Annan, is being held responsible for the uplift and removal of the waste – leaving industry leaders aghast at the lack of support available for farmers and landowners suffering from the growing scourge of fly-tipping.
Mr Jamieson raised the incident as a matter of urgency with his local council as well as Police Scotland, Sepa and Zero Waste Scotland, but despite a site visit, it appears he will have to deal with the considerable cost of disposing of the asbestos.
NFU Scotland's (NFUS) regional manager, Theresa Dougall, said almost everyone Mr Jamieson had turned to shifted the responsibility to someone else.
"Although not wholly surprising, we had hoped, due to the extremely hazardous nature of asbestos, that someone would raise their head above the parapet," she said.
"Not only does this highlight the lack of general support – both physical and legislative – in tackling the surge in fly-tipping across Scotland but when hazardous waste is involved, that support still isn't available and the innocent landowner is left to carry the cost of clean-up and disposal."
Scotland's fly-tipping problem intensified this year when recycling centres were closed, but even when they reopened the problem has continued.
This incident is the latest in a long list of dumped waste including rotting meat, household rubbish, rubble, tyres and batteries.
NFUS has called on the Scottish Government to produce a national fly-tipping strategy and for local authorities to provide financial assistance to help land managers clean up, particularly when the waste is hazardous.
The union is also calling for greater resources to be made available to Police Scotland and other bodies to pursue fly-tippers as well as the creation of a national database of fly-tipping which would require compulsory monthly reporting.