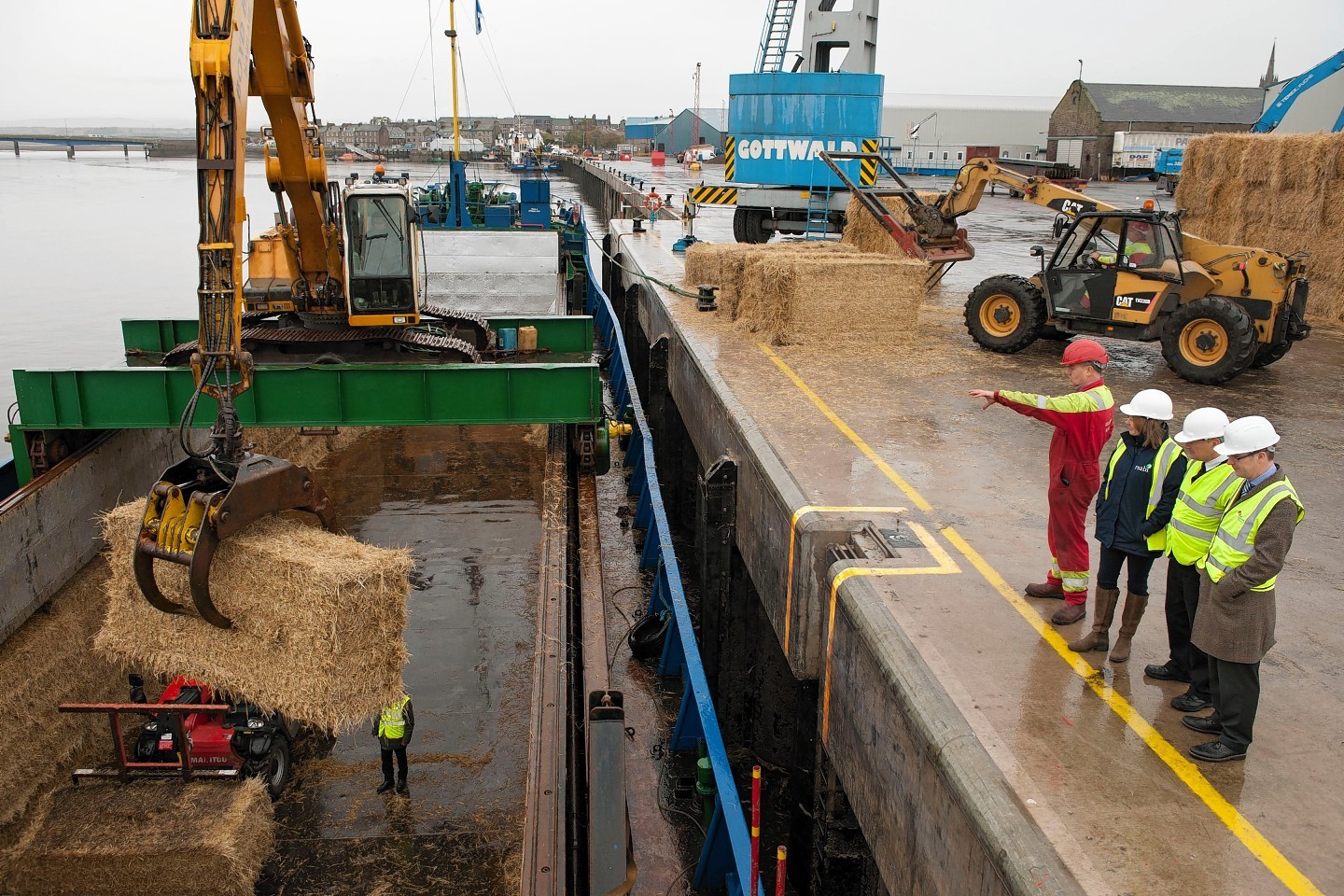 The first emergency shipment of straw to the Orkney island of Westray was loaded yesterday at Montrose on to the coaster MV Burhou.
The 180 tonne shipment is scheduled to be in Westray later today after 20 hours at sea with skipper Colin Baldwin meaning to make another two deliveries over the next week depending on the weather.
It is the weather, of course which has brought about the need for the straw in the first place. Orkney has suffered particularly badly from the poor summer and Laurencekirk-based Ringlink has been sending consignments to the Orkney mainland in recent weeks.
These have been carried by regular ferry services on lorry trailers but such is the demand on the outlying northern isle of Westray that it was considered more economical to ship directly by coaster.
Graham Bruce, managing director of Ringlink has organised the delivery to the quayside using contractors DM Carnegie and John McVicar with all the straw coming from the Montrose hinterland.
The whole operation is a remarkable effort by the whole farming industry.
NFU Scotland's Westray branch chairman Phil Bews has been at the heart of the project and co-ordinated straw orders from the 24 farmers on the island.
The farmers will pay for the straw themselves but 50% of the transport costs, or around £20,000 will be met by rural charity RSABI.
In August Rural Affairs secretary Richard Lochhead boosted RSABI's emergency fund by £50,000 to allow for situations such as this. RSABI chief executive Nina Clancy, who was on the dockside in Montrose yesterday said: "We are delighted to assist the Westray farmers but these are tough times for all who work in the Scottish countryside and I really encourage anyone out there who is struggling to get in touch."
Scott Walker, chief executive of NFU Scotland added: "A lot of work has gone into organising these shipments but without them westray farmers would have struggled to maintain breeding cow numbers."
The loading of the MV Burhou was being supervised by Mark Cessford of stevedoring company Rix. Apart from some deck cargo of straw to the Shetlands in the past he reckoned this would be the first straw cargo ever to have been shipped from the port.
* RSABI's helpline – 0300 111 4166 – is open every day of the year from 7am to 11pm.