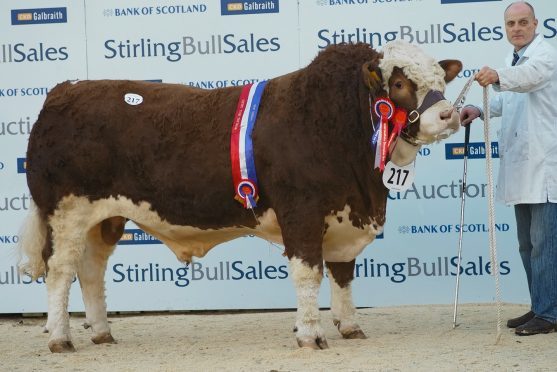 Simmental bulls met a flying trade with nine lots selling to five-figure sums at the Stirling Bull Sales yesterday.
British Simmental Cattle Society chief executive, Neil Shand, said a clearance rate of 80% was achieved when 122 bulls sold to an average of £5,675.
At the same fixture last year, six bulls sold to a five-figure sum with 129 put under the hammer to average £4,964.
Leading the charge at 22,000gn was the reserve overall and intermediate champion from Northern Irish breeders Billy, Michael and Matthew Robson of Doagh, Ballyclare.
The Robsons, who have 100 cows at home, sold July-2014 born Kilbride Farm Foreman to Clive Houdley, Kirtleton House, Waterbeck, Lockerbie. This one is a home-bred son of Crugmelyn Brenin out of Kilbride Farm Jolly 7T.
Another Brenin son, which was placed reserve intermediate champion, sold for 15,000gn.
This one – August-2014 born Kilbride Farm Fearless – is out of Kilbride Farm Eunice 105B. He sold to the pre-sale show judge and his wife – Gary and Angela Christie, of Midtown of Glass, Huntly.
Meanwhile, the second best price of the day was achieved by a fourth-prize winning lot from Alex and Ross King's Wolfstar herd in Ormiston, East Lothian.
December-2014 born Wolfstar Flying Scotsman is a Team Celtic son out of Wolfstar Tequila. He heads to David Lowry, Newsteadings Farm, Cartland, Lanark.
The senior champion bull from Stewart Stronach, Berryleys Farm, Grange, Keith, sold for 16,000gn.
Islavale Ferrari – a home-bred April-2014 born son of Curaheen Bandit and out of Islavale Victoria – was snapped up by A Jukes, Swallowhill House, Bourne Lane, Sandhurst, Kent.
The next best price of 14,000gn was paid for a May-2014 born lot from Alan and Ross King's Wolfstar herd in Ormiston, East Lothian.
Wolfstar Fearless, which is by Team Celtic 11 and out of Wolfstar Aphrodite, heads to J Shouler, Elm Tree Farm, Wendlebury, Bicester, Oxfordshire.
Thereafter four lots sold to 10,000gn.
First at this price was May-2014 born Corskie Freddy from Jimmy, Nan and Iain Green of Corskie Farm, Garmouth, Fochabers.
This one is by Greencap Ace and out of Corskie Villey. He was bought by CJG Clark & Partners, Villa Farm, Otley.
Next at 10,000gn was a second-prize winning lot from Jimmy Wood, Popes Farm, Preston.
Popes Fendt – a June-2014 born Kilbride Farm Comber out of Popes Princess Leo – sold to T Hill & Wright, 1 Mill Farm, Daw Lane, Wadworth, Doncaster, South Yorkshire.
Another at 10,000gn was the reserve junior champion from Michael Barlow, Foar Oaks, Ulnes Walton Lane, Leyland.
Denizes Fantastic is a November-2014 AI son of Whitemire King Kong out of Denizes Tonia 4th. He sold to JH Wilson, 4 Martins Lane, Newry, County Down.
Last at 10,000gn was a second-prize winning lot from Kenny Veitch, Drumlone, Lisbellaw, Northern Ireland.
Drumlone Fabulous is a November-2014 born AI son of Carnkern Titan Cent4 out of Corbally A1 Katie. He was bought by Hugh Brunton, Crudie Acres Farm, Arbroath, Angus.
Meanwhile the pre-sale supreme champion – February-2014 born Derrycallaghan Fireworks – sold for 8,000gn to Liam Muir, of Upper Onston, Stenness, Stromness, Orkney.