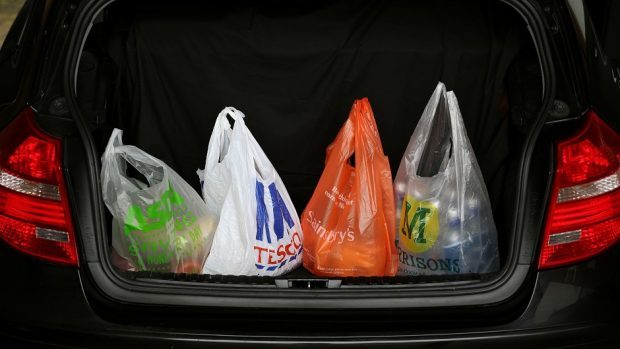 Retail giants Tesco and Asda are failing to support Scottish pig producers when farmgate prices are at an eight-year low.
Those are the findings of a "shelf watch" survey by Scottish pig farmers which also found that there is contrasting strong support for domestic producers from Aldi, Lidl, Marks and Spencer and Waitrose.
UK-only displays of pork were also evident in the Sainsbury's, Morrisons and Co-operative Food stores visited by the farmers.
The survey on pork looked at shelves in nine different supermarket chains and 20 different stores and follows an appeal from the English pigs levy board, AHDB Pigs and a group of other farming organisations, including Quality Meat Scotland and NFU Scotland, for more retail support for pig producers.
Tesco and Asda were found to be offering "significant" quantities of European pork over British and Scottish produce, and those taking part in the shelf watch also noted that domestically produced and imported pork was located alongside one another, making it difficult for consumers to identify and support home-grown produce.
NFU Scotland pigs working group chairman, Kevin Gilbert, who farms in Aberdeenshire, said that some of the biggest retailers could go much further to support the industry.
"Fresh Scottish pork was hard to find in many of the Tesco and Asda stores surveyed and, disappointingly, there were significant volumes of imported meat," he said.
"Farmers are working hard in challenging conditions and producing to the highest standards of welfare and quality. We need to see our produce valued across the supply chain. We know that consumers want to buy locally produced sustainable food and the continued co-mingling of produce makes it difficult for them to identify pork which originates here, in Scotland."
Mr Gilbert praised the prominent displays of pork and bacon in Lidl and Aldi.
According to AHDB Pigs, farmgate prices in January were at the lowest level since April 2008 at 121.59p a kilo.
"Compared with January 2015, farmgate prices have fallen by 16%. Over the same time period, the average retail price has only fallen by 1%. This has resulted in the percentage share received by producers falling by 5 percentage points from January 2015 to January 2016," said the levy body.