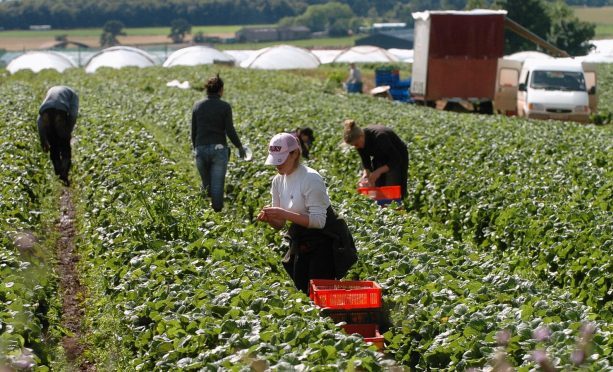 Horticultural businesses in Scotland risk going out of business unless the government takes immediate action to mitigate the impacts of raising the national living and minimum wages.
The NFU south of the border has warned that two separate increases in wages in 12 months, the first to the National Living Wage on April 1 this year, will decimate farm business profits and potentially destroy the industry.
Speaking at the union's conference in Birmingham, horticulture and potatoes board vice chairman Ali Capper said it was vital the UK's horticultural businesses remained competitive if they were to survive.
She said the government's decision to raise the National Living Wage from April 1 to £7.20/hour – an increase of 50p/hour – for workers over 25 would hit the sector hard.
But coupled with an annual National Minimum Wage increase – which is usually updated every October – and the effects could be catastrophic.
"From April 1 [Britain] is the second most expensive place to pick fruit and vegetables in the EU," she told delegates during a conference session on building better supply chains and enabling growth in horticulture.
"Labour costs can be between 35% and 60% of a horticultural business' turnover, so it puts a significant hole in profits when we get an unexpected rise."
Ms Capper said that since the abolition of the Seasonal Agricultural Workers Scheme, more than 70% of labourers were over the age of 25, which meant farmers were forced to pay the highest wage tier.
"There's a missed understanding about this in government," she said. "There seems to be a perception we only employ under 25 year-olds and it won't be an issue.
"But with current market condition's it's a very difficult time for [the wage increase] to be introduced."
Ms Capper said that horticultural businesses were making significant efforts to be more efficient, but as many crops had to be hand-picked, producers were left with no option than to somehow find ways to pay a significantly increased wages bill.
Ms Capper said there was no silver bullet to fix the situation, but said it was vital the government acted now to ease a potentially catastrophic situation.
"The most important thing is an exemption on employers' National Insurance contributions for all seasonal workers," she said.
"We are also lobbying for a student worker scheme for agricultural students all over the world. It would take the age profile of agricultural workers back to a more sensible level, but also bring innovation and new ways of thinking to the industry."
Ms Capper said the union was also asking the government to consider ending automatic pension enrolments for seasonal workers, and to align the timings of living wage and minimum wage increases.
"It's madness to have two increases in one year," she added. "The government needs to act quickly if we're going to avoid people going out of business."