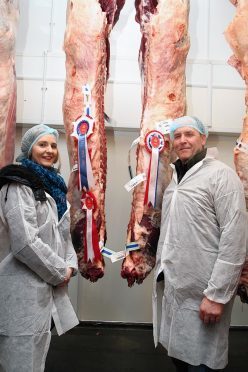 A Limousin cross heifer from Colin Tough, Barnyards of Delgaty, Turriff, topped an outstanding display at the carcase show at Scotbeef Inverurie's meat plant following this week's Royal Northern Spring Show.
The heifer was one of a batch of 46 bought privately as stores from Lloyd Fowlie, Guise, Tough, Alford, and gave Mr Tough his first ever championship at the show.
"I have entered the carcase competition only once before about 10 years ago and wasn't very lucky when it came to the prizes," said Mr Tough. "It is a pleasant surprise to have won the championship this year."
The heifer was always in the running after winning the heifer championship in the live judging at Thainstone on Wednesday. The heifer also won the award for the highest points in the combined live and carcase judging.
Mr Tough finishes about 600 cattle a year at Muiryfold Farm which adjoins the all-arable unit of Barnyards.
And it was a heifer which stood second to the champion in the medium heifer class which followed through to take the reserve championship for Alex Fraser, Mid Artrochie, Ellon. This one was fourth in the live judging and was bred by J and J Young, East Sinnahard, Glenkindie.
Judge, Raymond Wight, former managing director of Scotch Premier Meat, praised the overall show of carcases but, despite penalties now being imposed by most abattoirs for over-weight carcases, said there were still too many carcases which were too heavy for modern demand.
"I was judging for eating quality," said Mr Wight. "Both carcases had a nice covering of fat and I'm sure the beef from both will be nicely marbled. There wasn't much between them. The champion had slightly better shape and the reserve a little more fat cover so it was a case of making a judgement between these two attributes in the final analysis."
A Limousin bred by M G and A Shearer, Lythmore, Bridge of Westfield, Thurso, took the bullock championship for Angus Cumming, Tillydesk, Ellon, with the reserve going to Sandy Douglas, Crimonmogate Mains, Lonmay, again with a Limousin cross.
The best killing out percentage at 65.4% was achieved by a Limousin bullock from Andrew Laird, Mossbank, Burray, Orkney.
In the young farmers' carcase judging competition, the top award in the junior section went to Wm Moir, Cairness, Fraserburgh, while Gordon Cumming, Tillydesk, Ellon, topped the senior section. The team competition was won by Gregor Ingram, Clark Hibberd and Rory Gregor from the Inverurie club.