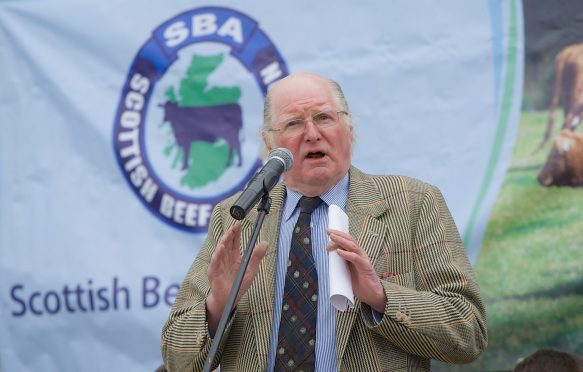 The chief of Scotland's largest red meat processing business, Ian Galloway, has died at the age of 75.
For five decades, Mr Galloway headed up Scotbeef, which is now Scotland's largest meat processing business with plants in Bridge of Allan, Queenslie, East Kilbride, Annan and Inverurie.
From those modern premises Scotch Beef and Lamb is supplied to the UK's biggest supermarkets. The family firm, with a £300million plus annual turnover, is also the country's largest red meat exporter with long-term customers in a number of European countries as well as farther afield.
Mr Galloway, who was born in Aberdeen on June 21, 1940, joined the family business of J. W. Galloway in 1956 straight from school starting with a short spell behind the shop counter followed by travelling around the family-owned shops.
A couple of years later, his father sent him on a round-the-world trip so that he could broaden his knowledge of the meat trade. The knowledge and experience gained on these trips helped the company build the first driven-line meat-processing plant in the UK, and, in 1962, Scotbeef, a wholly owned subsidiary of J. W. Galloway, was founded.
By the mid-1970s the firm of J. W. Galloway had 56 shops throughout Glasgow and the central belt. In addition, the company owned two processing factories and employed a total of 1,100 staff.
The firm was already supplying Marks and Spencer with canned meats and together the two firms developed controlled atmosphere packing of fresh meat – a move which encouraged Mr Galloway to come out of retailing and concentrate on meat processing. Fifty years later, Mr Galloway proudly celebrated the golden jubilee of trading with Marks and Spencer.
Thanks both to his determination and the support of a strong management team, led by his son, Robbie, who has been responsible for much of the company's operations for the past decade, they have been able to increase their customer portfolio to include major new players in the market such as Aldi.
In 1993 Mr Galloway was made honorary president of the Scottish National Fatstock Club. In 2011 he was awarded the CBE for services to the Scottish meat industry. Other awards received by Mr Galloway included a lifetime achievement award from the Royal Highland and Agricultural Society of Scotland in 2000, and more recently a honorary doctorate from Glasgow Vet School and an honorary fellowship from SRUC.
Mr Galloway is survived by his wife, Avril, son Robbie, daughter Suzie, son in-law James, daughter in-laws Nicki and Alison, and 10 grandchildren. His son James predeceased him in 2002.