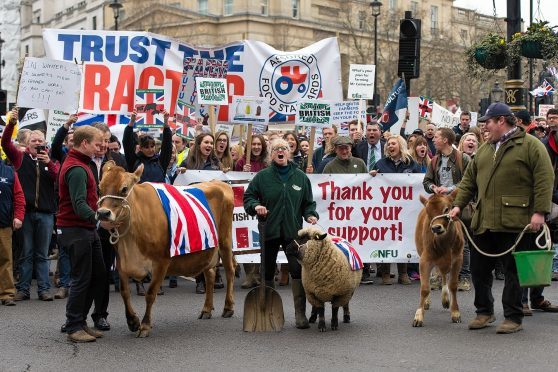 Hundreds of farmers marched on London yesterday, promising a fresh wave of protests over cripplingly low farmgate prices.
Producers from every sector, brandishing homemade banners and placards, poured off dozens of coaches, after some woke up before 4am to make the trip.
The march, led by a Jersey cow and calf, and two ewes, snaked past Trafalgar Square towards Downing Street.
There, Farmers For Action chairman David Handley, who organised the protest, delivered a letter to Prime Minister David Cameron, asking for government leadership to save the industry.
Speaking afterwards, Mr Handley said more action, like blockading supermarket depots, would follow.
He said: "There may be a call for some 'night manoeuvres', so don't put all your winter woolies away yet."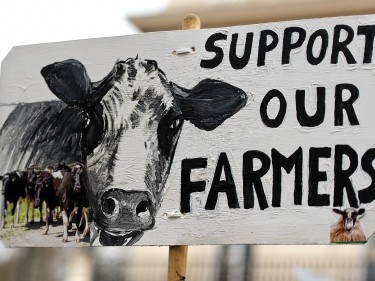 A handful of politicians turned up in support, including UKIP leader Nigel Farage and Neil Parish, who chairs the House of Commons food and farming committee.
That committee's recent report into low farmgate prices called for stronger powers for the supermarket watchdog and better labelling for British food, among other measures.
Farmers For Action's letter to David Cameron contained no new demands but asked the Prime Minister two questions: Should farming fully face the free market and would he show leadership during the crisis?
Somerset dairy farmer James Hole, 29, said his industry would not go down without a fight.
He said: "Our future will be influenced by decisions the government will make. They need to be aware of what is happening at grassroots level."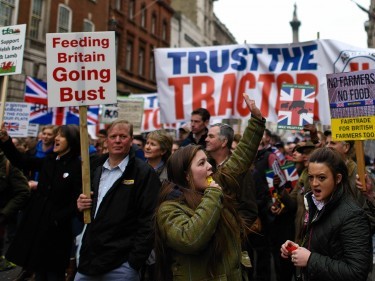 Police estimated about 1,500 marchers took part, stopping traffic down some of London's grandest roads.
Tourists and locals took pictures and selfies, as the farmers chanted "No Farmers, No Food".
Herefordshire farmer's son Jamie Bevan, 21, said it was hard to see a future for young producers, especially as the public were not aware of the problems.
He said: "Hopefully this [march] will spread around everyone and get people to support British farming."
A Defra spokeswoman said the government understood the challenging time farmers faced, with global volatility and low commodity prices.
She said: "From opening new export markets and introducing a fairer tax system for farmers to reducing red tape and giving them access to the latest market data to help them manage their businesses, we are taking action to help ensure the long-term resilience of an industry vital for our economy and our countryside."