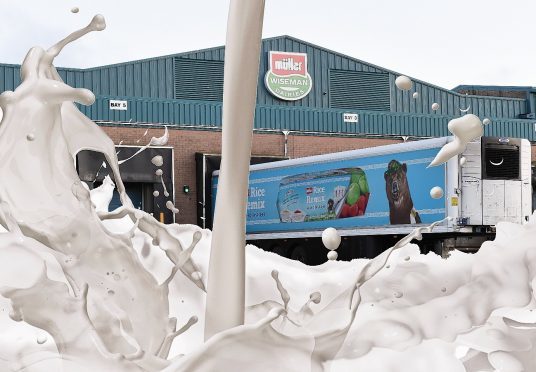 Muller has defended proposals to charge farmers 1.75 pence a litre in haulage costs if it closes the only milk processing plant in the north-east.
Earlier this month the dairy giant entered into a 45-day consultation period to close its processing site in Tullos, Aberdeen, putting 89 jobs at risk.
Muller said the factory, which processes milk from 43 farmers in Aberdeenshire and Angus, is only running at 38% capacity and the milk being produced is in excess of customer requirements.
If the factory closes, farmers will be forced to pay 1.75p a litre in transport costs to haul the milk south to another factory in Bellshill, in north Lanarkshire.
Following a meeting between Muller and its suppliers on Monday, NFU Scotland's milk committee representative for the north-east, Jean McLean, said: "We stressed to Muller UK & Ireland that we want to work with them to find a forward-looking plan to create a crucial solution to securing dairy farming in the north-east of Scotland. In turn this would help to protect jobs within the local area, including on farms, in the processing plant and also within the local supply chain."
She said the proposed transport costs were "unworkable and need to be scrapped".
In a statement, Muller defended its plans and said its milk price, inclusive of any haulage cost, would still be higher than those paid to farmers by other companies.
A spokesman said: "We understand that farmers' preference would be to avoid having to do this but the status quo – running a dairy at less than half of its capacity – is unsustainable and it is therefore important that we properly review our fresh milk dairy infrastructure."
Meanwhile, Banff and Buchan MP Eilidh Whiteford and Gordon MP Alex Salmond held a meeting with representatives from Muller to discuss the potential plant closure.
Following the meeting, Mr Salmond said: "Dairy farmers in the north-east are facing a serious situation and are under increasing pressure to maintain and grow their businesses as a result of the economic challenges.
"It was valuable to meet with Muller representatives and to discuss potential alternatives to their proposals. Their assurances of a genuine consultation period where these alternatives would be considered was a useful commitment, and my SNP colleagues and I will seek to hold them to that commitment."