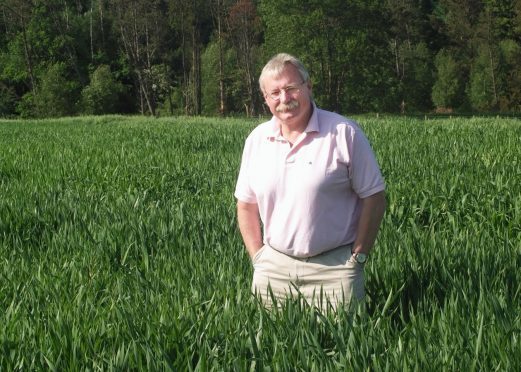 A world-leading plant scientist has been unveiled as the new principal and chief executive of Scotland's Rural College (SRUC).
After a recruitment process lasting more than two years, SRUC has confirmed that Professor Wayne Powell will join the organisation on July 1 from his current role of chief science officer at international agricultural research organisation CGIAR Consortium.
Before working at CGIAR, Professor Powell spent six years as the director of the Institute of Biological, Environmental and Rural Services (IBERS) at Aberystwyth University.
He is a leading authority on genetics and plant breeding and has previously served as director of the National Institute of Agricultural Botany (NIAB) in Cambridge and deputy director of the Scottish Crop Research Institute.
SRUC also confirmed that Janet Swadling, who has been acting chief executive and principal of the rural college since December 2013, will continue at the helm until Professor Powell joins after which she will take on the role of deputy principal and chief executive.
SRUC chairman, Pat Machray, said: "We are absolutely delighted to welcome Professor Powell as principal and chief executive of SRUC. His strong track record in agricultural research and knowledge transfer will allow him to drive SRUC's academic vision, which includes gaining degree awarding powers, and once more achieving a world-leading result in the Research Excellence Framework (REF).
"We believe his skills are the ideal complement to Janet's in depth business knowledge and keen understanding of the academic sector. They will work in partnership to ensure this unique institution further strengthens its education, research and consultancy capability."
Professor Powell said he was incredibly pleased to be joining a "unique and innovative institution" which is hugely respected across the world.
He said: "Land-based research is becoming increasingly important in a world where food and nutrition security and climate change are the top challenges facing governments across the globe. I believe SRUC has a key role to play in tackling these important issues. The research portfolio combines areas like precision agriculture, animal and crop health, and rural communities, and it is this holistic approach that gives SRUC a vital edge in the sector.
"The college also excels in its education and consulting activities and it is this combination of cutting edge expertise and knowledge exchange activities that ensures SRUC has such a comprehensive understanding of the bigger picture."