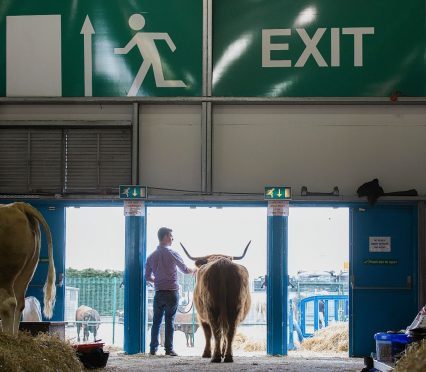 A dark cloud of uncertainty hung over the second day of the Royal Highland Show in Edinburgh following the announcement of the Brexit referendum result.
The Scottish farming community was left asking questions about the future of vital farm subsidy support after the referendum over the UK's membership of Europe resulted in a decision to leave.
Although the feeling of sentiment among Scots farmers and crofters had been mixed in the run-up to the vote, reaction from yesterday's show revealed a great feeling of uncertainty and questions of – what next?
Unlike the Scottish independence referendum where the majority of farmers were against leaving the UK, opinion over a Brexit has been mixed.
For those in favour of leaving Europe, the decision to leave will bring feelings of excitement and opportunity.
However, for those in the remain camp the vote marked the start of an uncertain future.
The industry's attention will now be on governments to outline what level of farm subsidy support, if any, will be put in place to replace Europe's Common Agricultural Policy.
Scots farm minister Fergus Ewing was quick to pledge to do all he could to push for continued support for farmers, however he said the UK Government would have to outline what happens next.
Defra eventually broke its silence on the issue and said the prime minister had been clear that there needed to be a system of agricultural support in the event of a Brexit.
A spokeswoman said government would work with industry and the public to develop new arrangements.
As well as issues over subsidy support, the Brexit vote outcome also raises questions about the future of trade relations with Europe and countries farther afield.
Although Quality Meat Scotland chairman Jim McLaren was quick to give assurances that protected food status for Scotch Beef and Scotch Lamb would be retained, questions remain about the country's ability to retain trade retain existing trade links with countries further afield.
Ultimately these questions need to be answered, sooner rather than later.
Farm businesses, like all other businesses, need certainty in order to plan for the future.
Questionmarks over subsidy support will bring a feeling of unease at a time when industry is already reeling from late farm subsidy payments and low commodity prices.