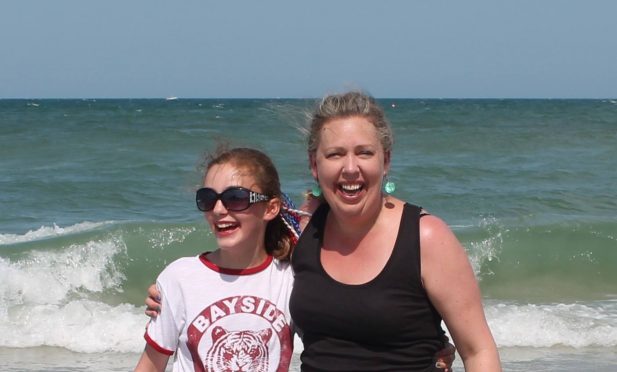 Life is busy for Robyn Teago with her 11-year-old daughter Áine, and Sid the foster dog at the family home in Inverness.
As each day passes in a blur of homework and cooking dinner, Robyn thanks God for the mundane elements which make up life after fighting back against cervical cancer.
The 47-year-old was diagnosed in October last year following a smear test and went through gruelling treatment before she was given the all clear.
Robyn is now urging women not to put off having a smear, after it was revealed that the number of women going for cervical screenings in Scotland has dropped to a 10-year low.
Uptake has fallen across every age group and every health board, despite the fact that the five minute procedure could save your life.
Robyn is now raising awareness about smear tests and is still coming to terms with the mental scars which cancer left behind.
"I think what people struggle to grasp about cancer is that it is never really over, it's always there," she said.
"It's not really a question of being in remission, I'm still checked every three months so you can never really forget.
"I feel so frustrated that women aren't going for smear tests because it saved my life. I would take five minutes of embarrassment over the devastation of a cancer diagnosis."
Robyn felt something wasn't right when she started bleeding between periods last year but was told that she was Peri menopausal before she was sent for a smear test.
"The nurse immediately knew something was wrong because I was bleeding so much. I was sent for scans and that's when a four centimetre tumour in my cervix was found," she said.
Robyn was initially told she had Stage One cervical cancer before doctors then told her it was Stage Two.
She started a gruelling treatment plan of chemotherapy, radiotherapy, and brachytherapy, the latter of which is a highly invasive procedure which was carried out in Aberdeen.
When her treatment finally finished in January of this year, Robyn sobbed with relief.
"The chemotherapy was horrendous because I constantly felt sick and there was a metallic taste in my mouth," she said.
"My hands were incredibly sore from where nurses tried to find a vein, I had chemo for six weeks every Wednesday and it knocked me completely."
Surgery to remove the tumour wasn't an option as Robyn would have lost most of her bowel, and her main concern throughout treatment was for her daughter.
"When I told Áine about the cancer the first thing she asked was if I was going to die," said Robyn.
"Then she asked me if she could catch cancer. Áine is a very private person and thankfully her school was amazing.
"She was particularly upset on Wednesdays and teachers were very good at distracting her."
Brachytherapy involved having radioactive material inserted inside the cervix so a high dose of radiation was given to the tumour.
Robyn was under anaesthetic for the procedure before treatment finally came to an end.
"The relief was immense and I cried buckets, I was so happy despite the fact that I still felt unwell," she said.
"I have been incredibly lucky but cancer leaves huge emotional scars, the impact it had on my family was overwhelming."
Robyn also has a 24-year-old son called Douglas and she has been supported by her partner, Aidan.
One of the greatest comforts which kept her going however was her faith.
"I think people say stay positive when you tell them you've been diagnosed with cancer, mostly because they don't know what else to say," she said.
"Faith is a very personal thing and I felt held throughout everything I was going through.
"On the flip side I lost friends after my diagnosis, people drifted away and I still don't really know why, but I've made some amazing friends on this journey."
Robyn now approaches life with a new gusto and believes women need to sit up and listen when it comes to cervical screening.
"I've seen big signs in the surgery for cervical screening which is brilliant, there is no excuse for not attending an appointment," she said.
"Women say they are too busy or they are embarrassed and that is very frustrating after my own experience.
"I am not afraid of dying anymore, if I die earlier then I die earlier.
"Cancer never really goes away, I still get pins and needles in the souls of my feet and horrendous pains in my hips.
"If you've been through that then a smear test seems like nothing."
A new online campaign will be rolled out later this year to encourage more women aged between 25 and 34 to have a smear test, and figures show three women lose their lives to cervical cancer every day in the UK.
Jo's Cervical Cancer Trust is the only UK charity dedicated to women affected by cervical cancer and cervical abnormalities.
It was set up in memory of Jo Maxwell who died from cervical cancer in 1999 when she was only 40-years-old, and her husband, James, founded the charity.
Following her diagnosis in 1995, Jo had difficulty finding good information about every aspect of cervical cancer. It was her hope that one day everyone would have easy access to the best and most up to date information and medical advice.
Most importantly for Jo, it was her wish that women affected by cervical cancer would have the opportunity to communicate with others facing similar challenges.
Her legacy means the charity has gone on to support thousands of women, including Robyn.
"Things could have been very different for me and cervical cancer has changed my life without question," she said.
"Of course I still get scared but I don't allow myself to dwell on the negatives.
"I'm here and every day I think well, isn't life wonderful."
For more information about Jo's Cervical Cancer Trust visit www.jostrust.org.uk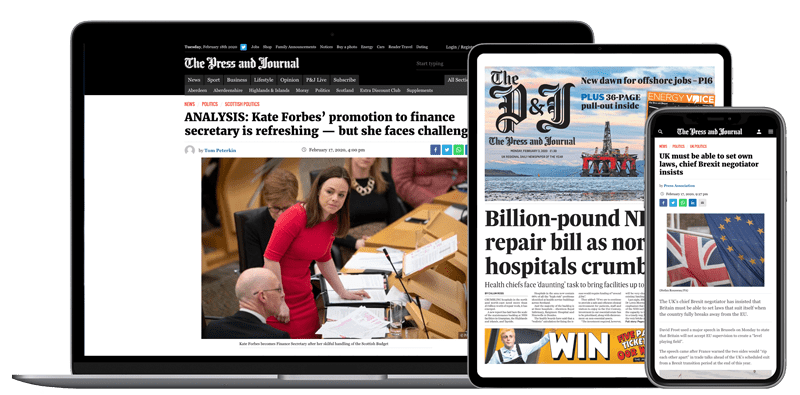 Help support quality local journalism … become a digital subscriber to The Press and Journal
For as little as £5.99 a month you can access all of our content, including Premium articles.
Subscribe