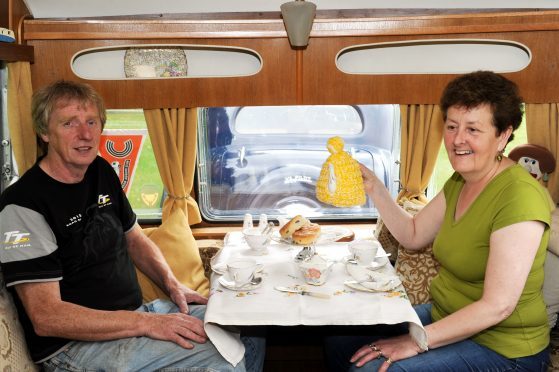 Sheila and Raymond MacDonald have enjoyed a love affair spanning nearly 40 years … with their collection of classic cars.
The husband and wife team from Rothes bought their first classic car only one year after they got married in 1979 and have never looked back.
Raymond ignited Sheila's interest in the vintage car movement and the couple enjoy life in true fifties style.
They now make quite the sight when they go on holiday thanks to their 1950 Ford V8 Pilot which tows a 1969 Cheltenham caravan to complete the look.
Both Sheila, 58, and Raymond, 62, are retired having raised identical twin boys.
Finlay and Craig are now 23, and their car mad parents finally have the time to indulge their passion.
"I've retired from the department of work and pensions and Raymond has retired from the whisky industry, we feel like this is our time now after years spent working and raising the twins," said Sheila.
"Raymond does the restoring and I do the polishing so we make a pretty good team.
"It was Raymond who got me into classic cars and we've just loved collecting them ever since."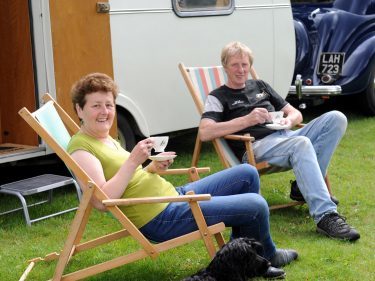 The couple's pride and joy is the Ford Pilot; an E71A model which they bought in 1989.
"I can't remember how much we paid for it, 22,000 were made by Ford in the UK and in its hey day, it could go at 80mph," said Sheila.
"It's a bit of a gas guzzler and we put it back on the road this summer after a bit of a break, we haven't made loads of modifications and I think the thing we love about it most is how luxurious it is."
The pilot has leather seats and a bench up front, alongside unusual elements such as vacuum driven wipers.
"It feels like you're sat on the sofa when you're driving, the leather upholstery is gorgeous," said Sheila.
"This is a big car which has a lot of pulling power, you couldn't tow our caravan with a modern car."
The Sable caravan was more of a sentimental purchase, as Sheila spent her childhood holidaying in a caravan.
It has also led to the couple making lots of new friends thanks to Cheltenham Owners club.
"I think the thing about owning a caravan like this is that people come and talk to us who otherwise wouldn't," said Sheila.
"They'll come up to you on the camp site and want to have a look round inside and that's been really lovely, it's a conversation starter and people are always curious.
"When I was a child the thing to do was to build your own caravan, we went away on holiday all the time."
The only drawback to Sheila and Raymond's road trips is that the Pilot can be pretty expensive to run.
"We don't get away very often because the Pilot is a bit of a gas guzzler but you expect that with a big classic car," said Sheila.
"We've had great fun and when we're on the road it feels like going back in time a little bit, it takes me back to the sixties.
"We've made so many new friends because of the caravan and we haven't needed to do that much to the inside."
The couple are doubtful they will ever sell their collection, and classic cars have become a shared passion which they enjoy together.
"It's a real vintage throwback for us which started when we were newly married.
"We've raised a family and we've never stopped loving classic cars so if you see us on the road, give us a wave."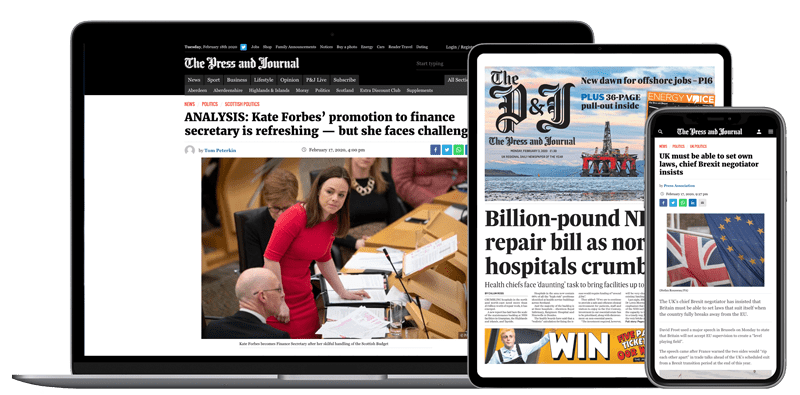 Help support quality local journalism … become a digital subscriber to The Press and Journal
For as little as £5.99 a month you can access all of our content, including Premium articles.
Subscribe