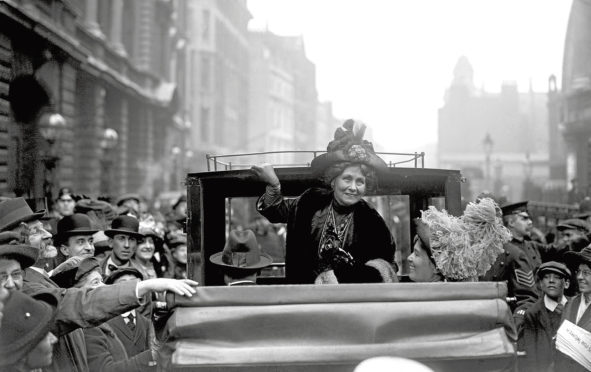 "I know that women, once convinced that they are doing what is right, that their rebellion is just, will go on, no matter what the difficulties, no matter what the dangers, so long as there is a woman alive to hold up the flag of rebellion.
"I would rather be a rebel than a slave."
These famous words were uttered by Emmeline Pankhurst in 1913, as she called upon women to rise up and partake in militant activity in a bid to get the vote.
Founder of the Women's Social and Political Union (WSPU), Pankhurst encouraged women to take part in physical confrontation so as to make their voices heard. "Those of you who can break windows, break them," she urged.
Pankhurst, alongside thousands of other women, was subject to horrific violence in prison which included barbaric force feeding and regular beatings. And yet women across the country, including Scotland, persevered.
Suffragette Emily Davidson famously threw herself in front of the king's horse on Epsom Derby Day.
Her death brought global attention to the cause but it was to be another five years until the Representation of the People Act was granted.
This delivered votes to women over the age of 30.
It has been a century since women were first allowed to make their way to the ballot box, and 90 years since women over the age of 21 were given the right to vote.
Women, once considered too silly and ignorant to vote, are now leaders in government.
We are doctors, lawyers, married or unmarried to both men and women.
We are mothers by choice with access to safe abortion procedures and contraception, which does not demand the presence of a wedding band to be prescribed.
We are athletes and campaigners regardless of our race, our class, or our dress size.
The day after President Donald Trump's inauguration, an estimated 3.2 to 5.2million people in 600 cities nationwide took part in the Women's March, without fear of retribution.
Singer Adele became the only artist to win Album, Record, and Song of the Year twice at the Grammy Awards.
In the ultimate display of women supporting women, she broke her grammy in half to share with Beyonce – who she claimed it truly belonged too.
And let us not forget Malala Yousafzia, currently attending Oxford University.
The schoolgirl activist survived a shooting by Taliban gunmen and is the youngest ever Nobel prize laureate.
Yet as women celebrate a century of progress, we are still fighting.
Every week in Britain two women are killed by a current or former partner.
One in five women in Scotland is faced with period poverty, forced to use rags or old clothes due to the cost of sanitary products which are subject to 5% tax under EU rules on VAT.
Almost one in eight pregnant women loses their job each year.
A mother with two children at nursery needs to earn at least £40,000 a year to make any profit from going to work.
The average woman in a full-time job earns £24,202.
Women are still challenging the gender pay gap, as demonstrated most recently with the BBC.
More men called John run FTSE 100 companies than women.
First minister Nicola Sturgeon has even released a £500,000 fund to drive greater representation of women in Scottish politics in "tribute" to the Suffragettes.
Amid the celebration of progress is a resilient message – there is still so far to go.
This is certainly the sentiment of Professor Sarah Pedersen of Robert Gordon University, who has embarked on a tour around the country to discuss the role of Aberdeen in the fight for women's suffrage.
PROFESSOR SARAH PEDERSEN: THE FIGHT DID NOT END IN 1918
"We are very lucky in Aberdeen to have access to a wealth of material concerning the Suffragette movement.
"Caroline Phillips was a journalist for what was then Aberdeen Journals.
"She was also honorary secretary of the WSPU branch in Aberdeen.
"There is a collection of letters between Caroline and fellow leaders, including Emmeline Pankhurst.
"Caroline disagreed with the militant tactics which Emmeline promoted.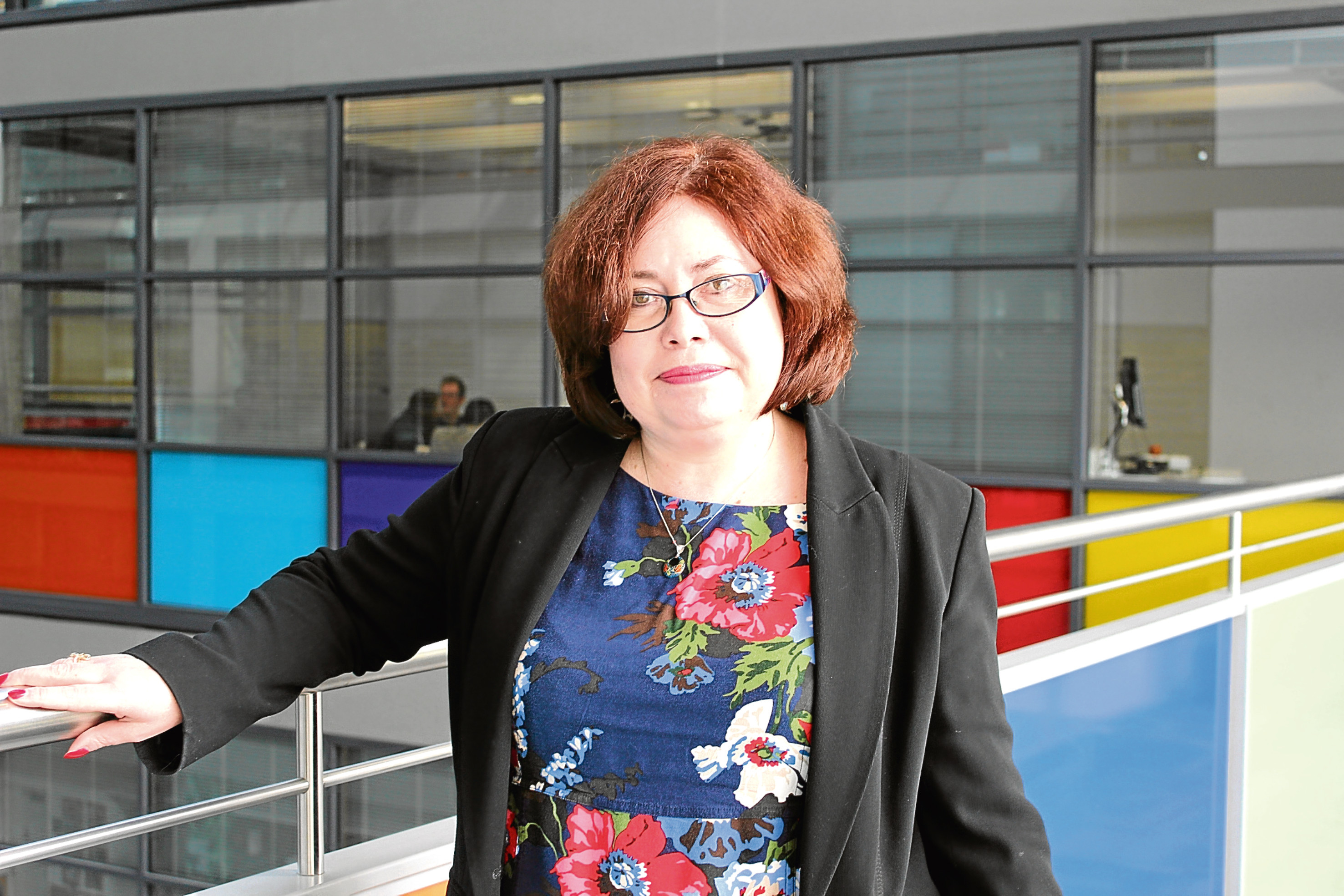 "One letter details her pleas for peace surrounding a plot to launch violence against the chancellor of the Exchequer, who was visiting the music hall in Aberdeen.
"I received heritage lottery funding to work on the project and have produced The Scottish Suffragettes and the Press.
"I'm giving the book away at all of my talks.
"I've already visited Orkney and I'm due to visit Glasgow Women's Library.
"We're on the fourth wave of feminism which is made up of collective action, much of which takes place online.
"There's the #metoo movement, the Jane Austin Campaign, and the denouncing of page three girls in The Sun.
"This is a continuing struggle which is not yet over.
"We haven't finished.
"So although this is a time to celebrate all that we have achieved, it is also a call for further action."
Dame Anne Begg was the Labour MP for Aberdeen South from 1997 to 2015.
She was the first full-time wheelchair user to sit in the Commons since 1880. In the 2011 New Year's Honours List she was awarded a DBE for services to disabled people and equal opportunities.
Dame Anne believes that for the many steps forward across the decades, there are still barriers in the way.
DAME ANNE BEGG: THE EXPECTATIONS YOUNG WOMEN HAVE TODAY ARE THANKFULLY VERY DIFFERENT FROM MY GENERATION
"When I was elected in 1997, I was only the 205th woman to be sworn in.
"It seems a pathetic number in this day and age but at the time it was a real triumph.
"Suddenly the benches did not seem to be full of men in grey suits, but women in colourful jackets.
"It was seen as a major breakthrough and it was partly made possible because of all-women shortlists.
"Those shortlists would go on to be declared illegal by a tribunal, after men declared that it was unfair.
"The very same men who had dominated politics for the past 200 years.
"Every small step was made difficult and barriers were put in the way.
"It was very much two steps forward, one step back.
"I think the women of today believe more is possible, because there are women holding positions high up in large corporations.
"Their expectations are different from mine as a young woman and certainly from that of the Suffragettes.
"Women now think it is possible that we could have another female prime minister for example.
"As a wheelchair user I have been fighting for equal rights my entire life.
"Discrimination towards the disabled is a different type of discrimination.
"In some ways it's more acute whereas discrimination towards women as a gender is more subtle.
"You can be left in no doubt that it's there though.
"Discrimination faced by the disabled is similar to what I imagine those early female pioneers experienced.
"Women were excluded from medicine and from law.
"We weren't allowed to be doctors or lawyers because we simply didn't go to university.
"I almost wasn't allowed to go to teacher training college purely because I am disabled.
"For women to succeed I think we have to be supported in our fight by men.
"Men shouldn't be the enemy."
Kirsty Blackman is MP for Aberdeen North.
She thinks disbelief surrounding sexism is a huge problem when it comes to change.
KIRSTY BLACKMAN: WE'RE TIRED OF BEING TOLD BY MEN THAT OUR EXPERIENCES AREN'T RELEVANT
"There are far more men than women sat in the houses of parliament.
"It would be easy to shrug our shoulders and think, well that's the way it has always been.
"Women in politics seem to be on the receiving end of abuse, far more than our male colleagues.
"This is particularly the case online.
"When I tell some men about something that happened, they are very disbelieving.
"They are amazed at what woman experience on a daily basis.
"The #metoo campaign is a perfect example.
"A lot of men respond to a woman's experience, be that in the work place or out on the street.
"And they say surely that couldn't have happened.
"Surely you weren't sexually harassed to that extent or even at all.
"That culture of disbelief needs to stop before change can happen. I'm standing on the shoulders of giants, those women that fought for suffrage.
"Those who have fought and keep fighting for equality.
"I'm only where I am because of them.
"In 2015 I was stood on someone's doorstep when I was told I was too young to run for parliament and I had too many children.
"At this point I had been a councillor for eight years.
"The story and the journey isn't over."
Although there is clearly a long way to go, women currently holding senior positions are hopeful that the tides of change will continue to turn.
Employment law specialist Katie Williams is head of the Aberdeen office for global law firm Pinsent Masons.
She is the first female in the Aberdeen office's history to take up the position.
Katie is also mother to two daughters, aged seven and 10.
She believes that benevolent sexism means women are still being passed over for senior roles.
KATIE WILLIAMS: STEREOTYPING IS DAMAGING WOMEN'S CAREERS
"It is scary to think that only 95 years ago, there were no women in the legal profession.
"There are now more female lawyers than male.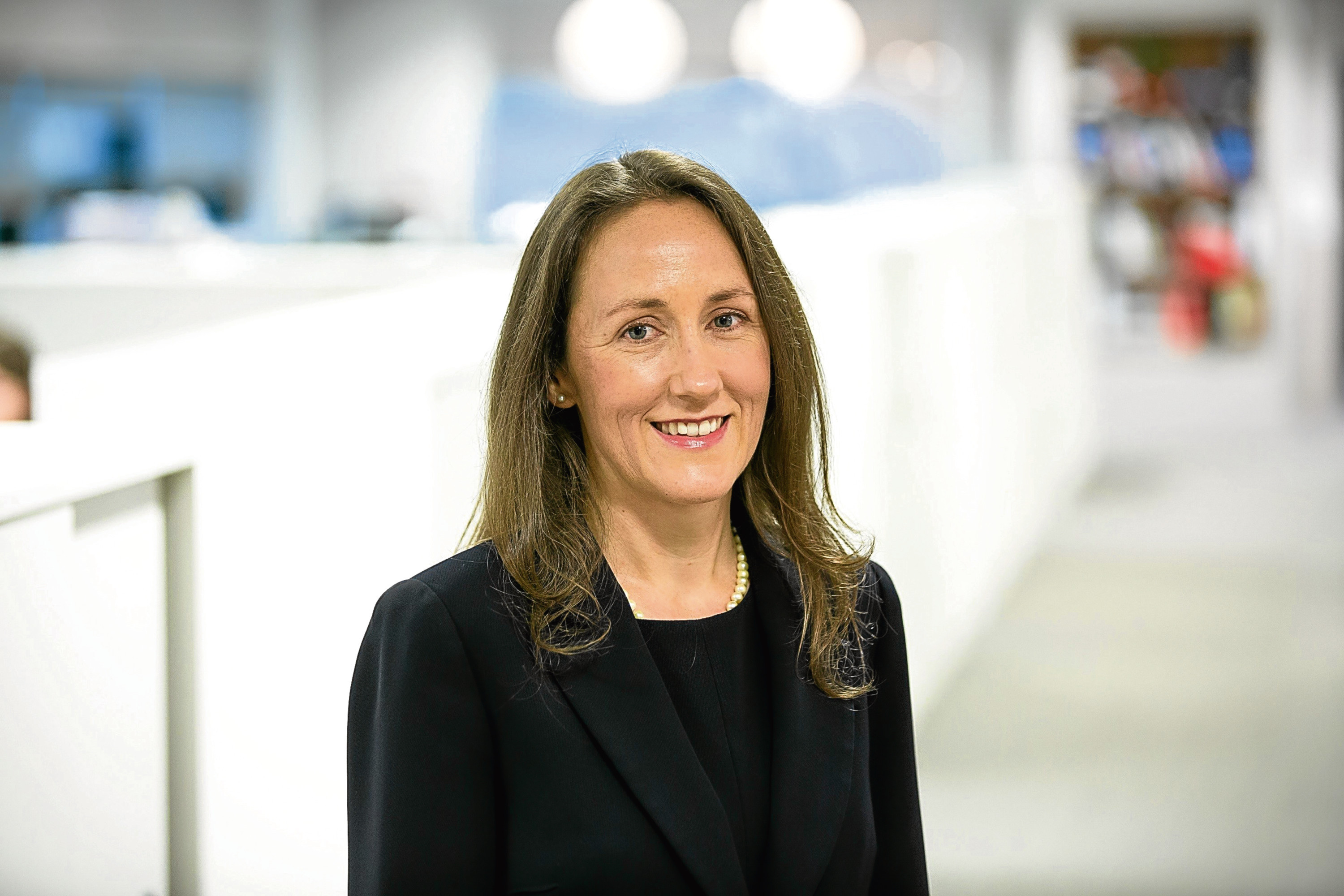 "Our own intake is predominately female so it would seem there has been a huge evolution.
"If you start to look up the rungs, the balance changes as there are more men in senior positions.
"We are working to have 30% of leadership positions filled by women by 2020.
"There is no one root cause as to why this divide exists.
"Women tend to have career breaks in that just as they become experienced, they may also be considering starting a family.
"I'm a mother of two and have been able to succeed because when work demands more of me, my husband will commit to spending more time with our daughters.
"I do the same for him.
"We share the homework, the swimming lessons and the school run.
"Joint parenting and a supportive flexible workplace has made my career progression possible.
"Having it all just isn't possible for men or women in terms of career and family.
"I think overt sexism such as the Presidents Club is actually quite rare.
"It's benevolent sexism which is still a problem.
"The assumption that women are kinder, more gentle.
"That a female employee won't want that promotion because she may be thinking of having a baby.
"It's such a damaging assumption.
"Or a woman won't want to take on a big project upon returning from maternity leave.
"These sometimes unintentional hindrances need to be called out, both by men and women."
Karen Darke MBE is a paralympic champion.
She is a full-time athlete with the British Para-Cycling Team.
Karen was only 21 years old when a cliff fall left her paralysed from the chest down.
She now splits her time training between Majorca and Inverness.
KAREN DARKE: GENDER HAS NEVER COME INTO IT
"My life has been quite the journey with plenty of incredible moments.
"As a paralympian you never get a chance to breathe.
"Training is constant and the standards are incredibly high.
"My biggest piece of advice to anyone considering the sport, male or female, is that you truly have to love what you do to stick at it.
"I've never thought about my gender when it comes to competing.
"In my experience in the paralympic world, we have equality."