At less than six feet long and only 2ft 7in high, the single-seat Sinclair C5 sits somewhere between a trike and a Reliant Del Boy car.
Complete with three wheels, the revolutionary electric vehicle was first developed by inventor Sir Clive Sinclair back in 1985 and could reach awe-inspiring speeds of up to 15mph.
Priced at £399 it was hailed as a radical new invention which offered a cheap way to get around, exempt from road tax and insurance.
Anyone over the age of 14 could use the C5 on a main road with no requirement for a driving licence or even a helmet. But, far from the runaway success Sir Clive was expecting, the C5 proved to be one of the biggest sales disasters of the decade, crippling his enterprise in the process.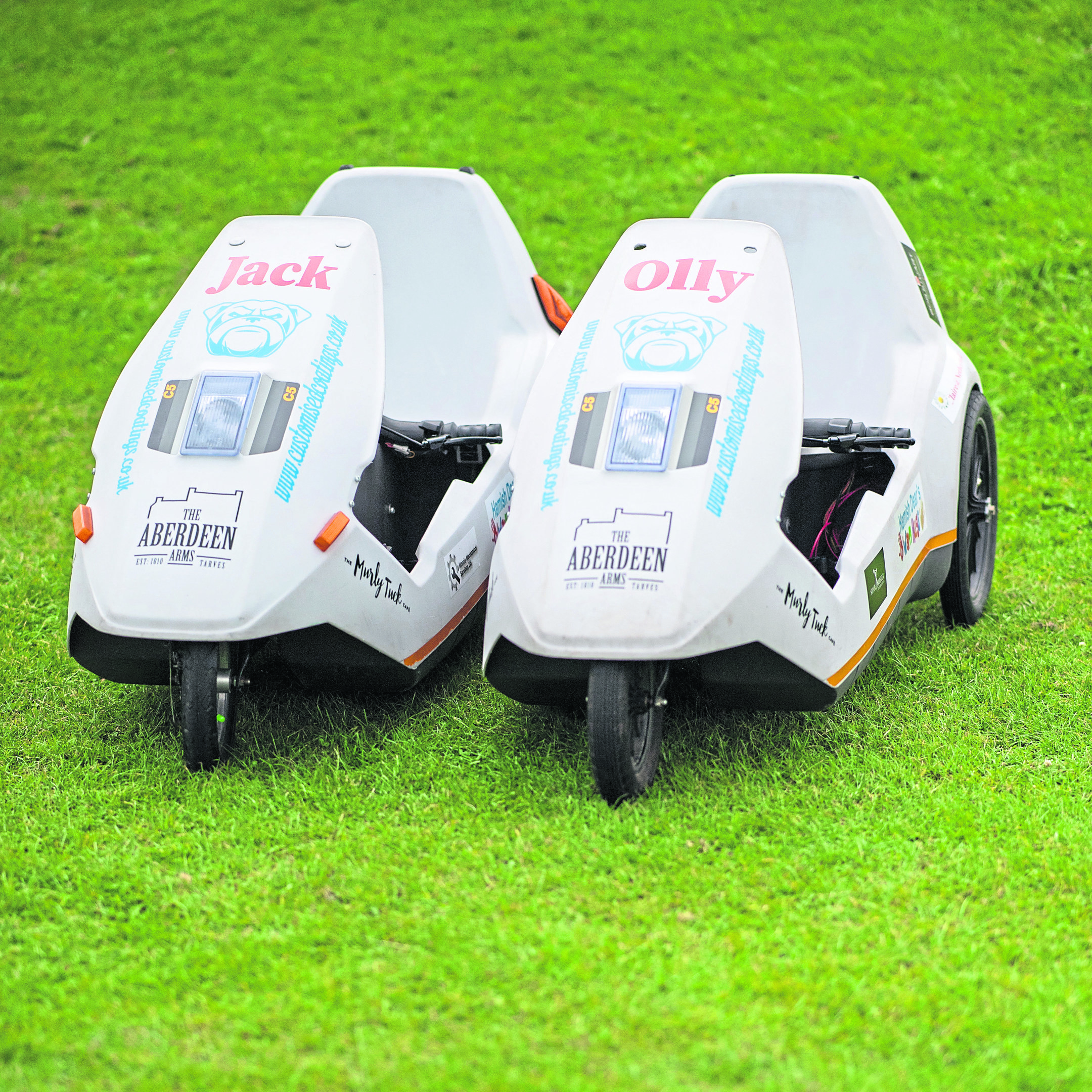 It struggled with hills and there were fears that it wouldn't be seen in traffic.
Protection from the elements came in the form of a designer overcoat from the accessories booklet and the battery would give out after anything from 11 to 25 miles.
Of the 14,000 models made, only around 5,000 were sold and today the model is cheerfully celebrated as the moment when a distinguished inventor pushed his wild ideas one step too far.
However, out in the Aberdeenshire village of Tarves, Sir Clive, now 78, would be pleased to see that his C5 wasn't a complete failure after all.
Residents of the village are well used to seeing a C5 or two zooming past their front windows, as John Igesund and his sons Jack, 10, and Olly, 6, race around on their very own authentic three-wheelers.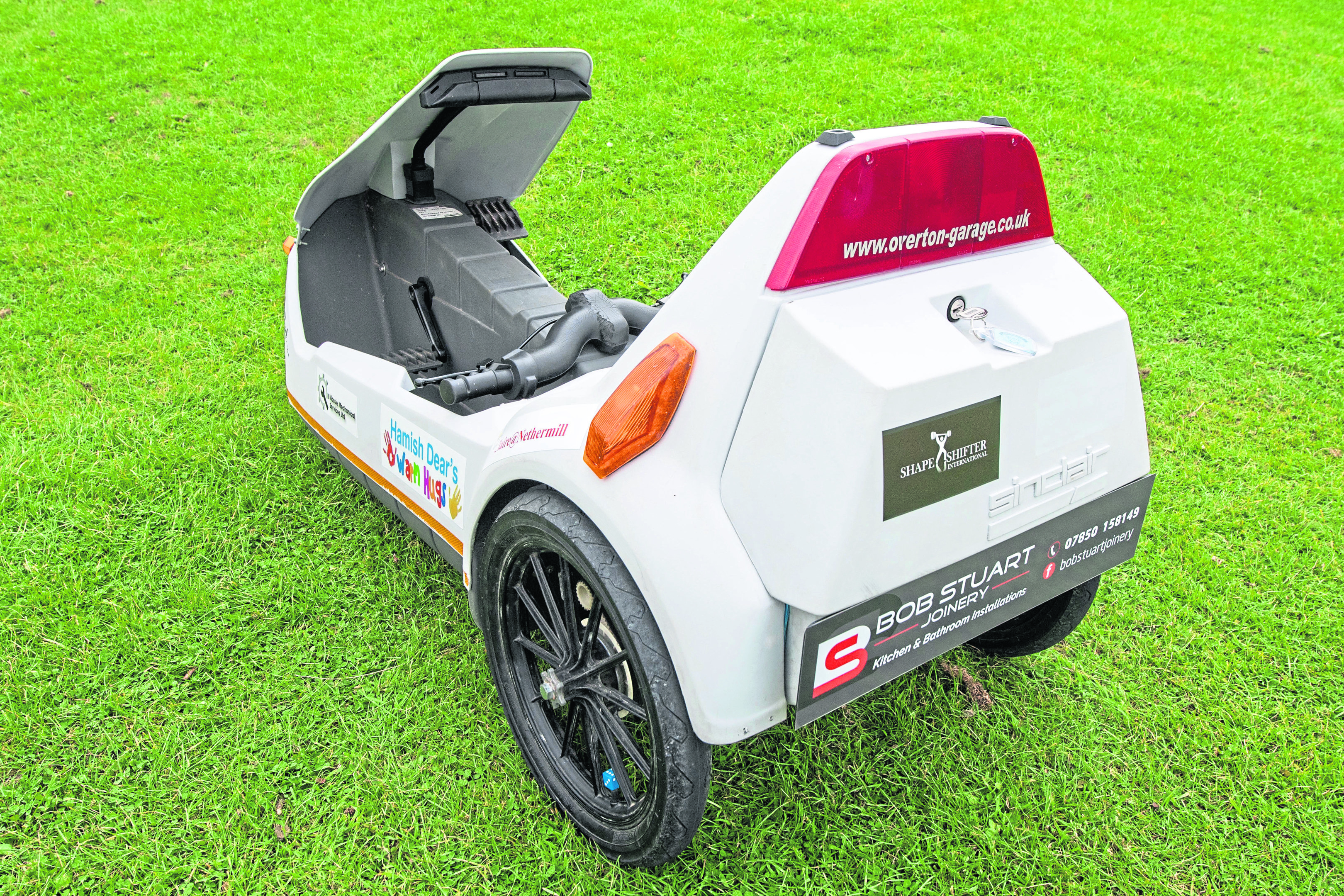 "I've only had them a few months," said John, 37.
"I've always wanted one since I'd seen them as a boy and so when I saw one on eBay at the start of the year I just took a chance.
"It was down in England so I went and picked it up. Luckily it was in really good condition and we started using it pretty much right away.
"The only problem was my son Jack was never off the thing!
"It got boring having to always jog along behind him so then the idea came to get another one.
"It would be much more fun as a pair."
John, who is a sheet metal worker in Dyce, was straight back on eBay and soon took delivery of his second C5.
As a one-person vehicle with no seat adjustment, the electrically assisted pedal cycle was good to go immediately.
The battery offers power at the press of a button while the front caliper and rear drum brakes stop you with a squeeze of a standard bicycle brake lever.
Occupants sit on top of the handlebars, where your arms natural fall to your sides and on to the grips.
"The pedals and motor can be used in combination which is good for going up hills," John said.
"But they can also work independently of each other meaning that, in the event of a flat battery, the pedals give you an alternative means to get back home. A small LED display pod shows you the battery charge, and another display shows you when the motor is under too much strain.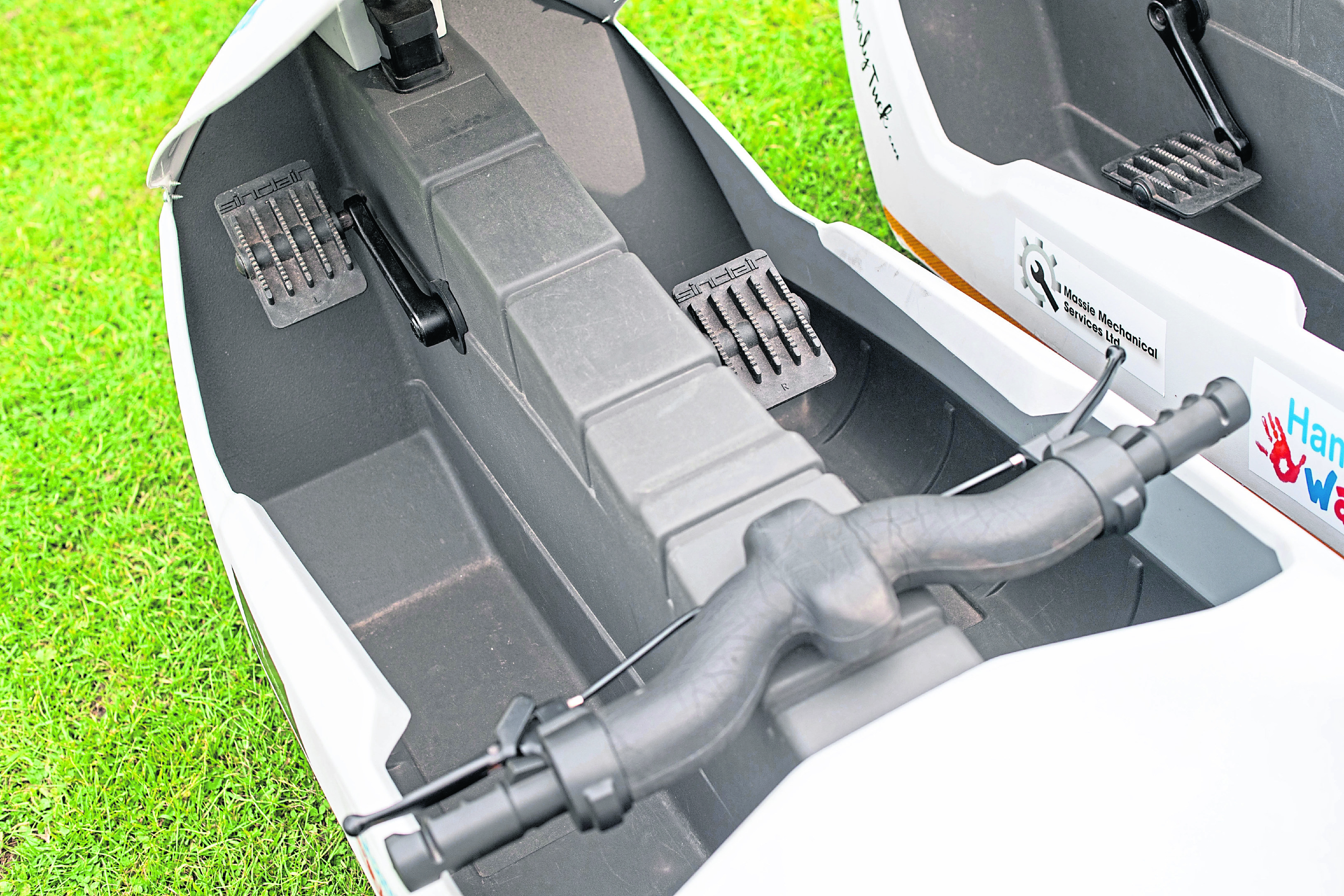 "That's when you start peddling hard," he laughed.
"Because it's a one-size-fits-all thing, my youngest son Olly is a little short to reach the pedals on his own, but Jack and I are out almost every day on our wee route around Tarves.
"Out of the blue a car stopped alongside us one day and the driver said that he had an old C5 in his garage just down the road and did I want it?
"Of course I said yes.
"It's not in great condition, though, so I'm using it for spare parts at the moment and am hoping to build it up one day.
"It's a funny thing really –I travelled 1,000 miles down to England to get my C5s and there was one on my doorstep after all."
Now well known in the community, John's C5s have been receiving more attention than he ever expected.
"People often stop us to ask what they are," he said.
"I've even been asked on two occasions if I made them myself in my garage.
"But most recognise them as iconic vehicles of the 80s and we've started using them to raise money for local charities.
"Our first major outing was to the Ellon pedal car race and we're looking to have more days out with them over the coming months.
"People absolutely love seeing the C5s in use and in my opinion the inventor was way ahead of his time.
"You can see it now with electric vehicles having more presence on today's roads but, for me, the C5s are the original taste of the future."