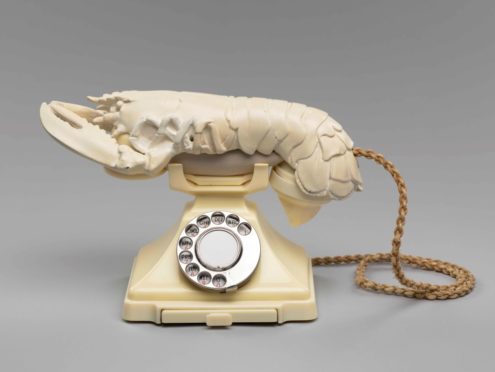 Yes you read that right – a lobster telephone is to go on display at the Scottish National Gallery of Modern Art this week.
It's one of the most famous of all 20th Century sculptures acquired by the National Galleries.
Salvador Dalí's Lobster Telephone is one of the most instantly recognisable masterpieces of Surrealism, the art movement that emerged in Paris in the 1920s.
The bizarre combination of the phone and a lobster was made in 1938 for Edward James (1907-1984), Dalí's main patron in the 1930s.
The Surrealist sculpture is at once absurd, repellent, fascinating and menacing, yet it is nevertheless a fully functioning phone.
Eleven of the plaster lobster receivers were made to fit to telephones at James's house in Wimpole Street, central London and at his country house, Monkton, in West Sussex.
Four of the lobsters were painted red, and seven were painted white. The Lobster Telephones are now almost all in museum collections around the world: the Tate in London has a red version on a black telephone.
This white version remained with the Edward James Foundation, in West Sussex. It was recently sold at auction and would have left Britain, but in view of its artistic and historical importance, it was subject to an export license deferral.
The National Galleries of Scotland has one of the world's greatest collections of Surrealist art, including major paintings by René Magritte, Joan Miró, Salvador Dalí, Paul Delvaux, Toyen, Yves Tanguy, Max Ernst, Leonora Carrington and others, and sculptures by Alberto Giacometti.
Speaking of the acquisition, Simon Groom, Director of Modern and Contemporary Art at the National Galleries of Scotland said: "This major acquisition cements our position as one of the world's greatest collections of Surrealist art.
"Dalí created something incredibly rich, imaginative and funny with the most economical of means. Before this acquisition we had nothing of this kind."
Stephen Deuchar, Director, Art Fund, said: "Dalí's Lobster Telephone is amongst the most famous of all Surrealist objects, typifying the spirit of the movement in its witty, subversive eccentricity. Art Fund is proud to help the National Galleries of Scotland add this important work of art to their internationally renowned Surrealism collection."
Who was Edward James?
Edward James was born in 1907 at his family's summer house, Greywalls, in Gullane, near North Berwick in East Lothian. His family was immensely wealthy, owning a vast estate at West Dean, near Chichester in West Sussex. Edward came into his inheritance in his twenties and used much of it to support the arts: he is best known as the patron of Salvador Dalí and René Magritte in the 1930s. He met Dalí in 1934 and the two became close friends. Dalí visited James in London on several occasions and James bought many of the artist's greatest work, straight off the easel, hanging them at his houses in London and West Sussex.
From the mid-1930s, James had both residences redesigned and given Surrealist makeovers. Dalí designed furnishings including the celebrated Mae West Lips sofas, which were shaped in the form of the Hollywood actress's lips, tall lampstands in the form of stacked champagne glasses, and the famous Lobster Telephones.
How much?
Lobster Telephone was acquired for the sum of £853,000, supported by the Henry and Sula Walton Fund (£753,000), and Art Fund (£100,000). Henry Walton was a Professor of Psychiatry at the University of Edinburgh and Sula Walton (née Wolff) was an internationally renowned child psychiatrist. They were passionate devotees of the arts and left their art collection to the National Galleries of Scotland. They also established an independent, charitable fund, designed to help the Galleries acquire major works of modern art. Thus far, the Walton Fund has assisted in the purchase of works by Pablo Picasso, Jenny Saville, Toyen and Leonora Carrington – works which would otherwise have been beyond the Galleries' reach.